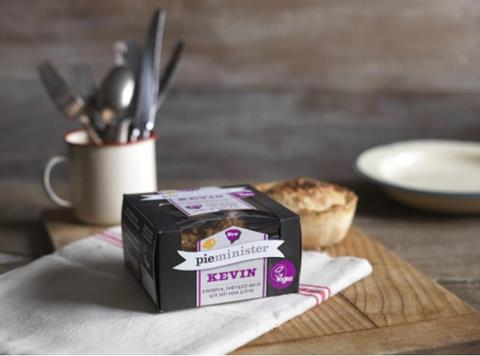 Pieminister has unveiled its first vegan pie, called Kevin, to coincide with the Veganuary charity's month-long push in January to encourage plant-based eating.
Rolling out now to selected Waitrose branches and indies nationwide, Kevin (rsp: £2.80/270g) is made with British chestnut mushrooms, tomatoes, red wine, baby onions, red quinoa and thyme – creating "a full-bodied, rich ragu-like filling in a crisp pastry" according to Pieminister.
A year in development, the new pie is registered with The Vegan Society and carries its trademark. The launch was aimed tapping the rise in plant-based eating. Pieminister hoped its NPD would appeal not only to existing vegan shoppers "but also encourage others to give veganism a go".
The 15-year-old brand's co-founder Tristan Hogg added that "even the most carnivorous customers might be very pleasantly surprised by Kevin. We're hoping it will inspire a few Veganuary pledges in 2018."
The Vegan Society was "delighted to register Pieminister's very first vegan pie" said spokeswoman Dominika Piasecka. "Offering vegan options opens up a potential market of not only half a million vegans in Britain but also a million more vegetarians, the huge number of meat and dairy reducers, the lactose intolerant, and others who simply enjoy vegan food from time to time."
Kevin's name was short for 'Kevin Keegan' (after the former England footballer), to rhyme with 'vegan' as faux Cockney rhyming slang, said Pieminister, which had "always loved silly pie names". The launch comes after Sainsbury's unveiled its Gary range of vegan cheese – which the supermarket extended in October following a sales surge.