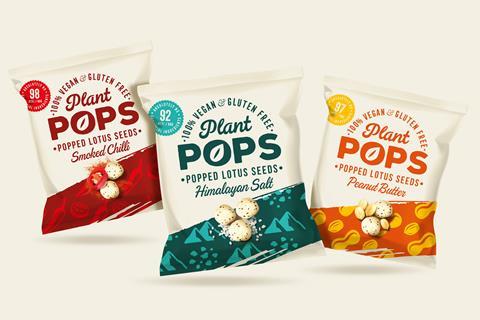 Vegan snack brand Plant Pops has made its debut with a trio of popped lotus seeds.
Popped lotus seeds were largely unknown in Britain but "eaten by a billion people worldwide", said the brand, adding it had "updated the product for a contemporary audience with a fully plant-based recipe and innovative flavour combinations".
They are: Himalayan Salt, Smoked Chilli and Peanut Butter. They are roasted rather than fried, contain no palm oil or preservatives, and are gluten-free.
They are billed as having "a popcorn-like crunch and a light, airy texture, making them the ideal healthy snacking option for the whole family, that can be enjoyed any time, whether as an al-desko, study time or mid-afternoon snack".
The seeds used in their production are sourced directly from farmers in Bihar, India, and are touted as being sustainably grown and harvested.
"Having grown up in India, where my family would snack on popped lotus seeds at home, I wanted to make these delicious, traditional snacks accessible to as many people as possible," said the brand's co-founder Anushi Desai.
They roll out in 20g packs into Harvey Nichols and online supermarket The Vegan Kind this month.