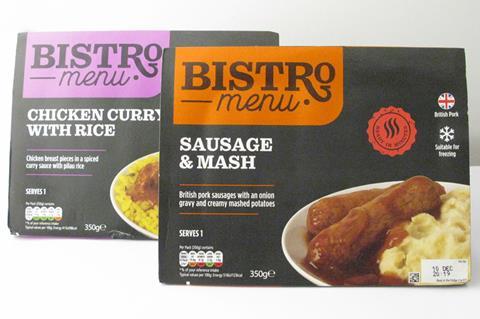 Poundland has launched private-label chilled ready meals across its 800-store estate.

The 'Bistro' branded ready meals, supplied by Greencore, cost £1.50 each and include Chicken Curry with Rice and Sausage & Mash made with Britsh Pork.

The move is part of Poundland's bid to become a multi-price grocery discounter as well as a destination for general merchandise bargains.

The value retailer is in the process of rolling out more grocery and new price points across the estate following a 24-store trial in the Midlands.

'Shops in shops' offering new frozen and fresh ranges have also been launched in a five-store trial which could extend to 250 branches.

A Poundland spokesman said the ready meals were "one of our new ranges going in as the stores roll out our Midlands trial across the UK".
The ready meals would not have been possible under Poundland's old pricing model, which included £1, £2 and £5 only.

As well as £1.50, Poundland is adding £3, £4, and even £10 to the mix. The multi-price rollout also includes permanent grocery lines at under £1 for the first time.

Beyond food, Poundland multi-pricing has extended to a range of gift vouchers from high street retailers such as Next, M&S and Debenhams, worth £15 to £50. Others are redeemable online from the likes of Amazon, Google or PlayStation Store.