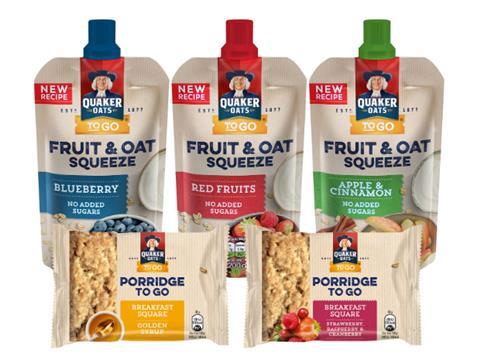 Quaker Oats has broadened its on-the-go offer with the launch of the Quaker To Go lineup.
It will be available from mid July, comprising the new Porridge To Go Breakfast Square and a revamped Oat & Fruit Breakfast pouch. The range has been created "for consumers looking for a satisfying, handheld breakfast solution" according to Quaker.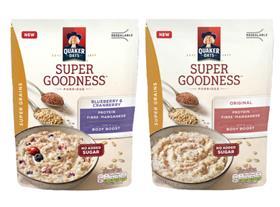 The Breakfast Square is 100% wholegrain oats in two variants: Golden Syrup and Strawberry, Raspberry & Cranberry (rsps: 75p/55g and £1.39/2x55g). It features microwaveable packaging that allows the product to be heated in 10 seconds.
The ambient, yoghurt-based Oat & Fruit Breakfast, meanwhile, has been renamed Fruit & Oat Squeeze and given an "improved" recipe. It comes in Red Fruit, Apple & Cinnamon and Blueberry (rsp: £1.39/200g).
An increasing number of shoppers were looking for breakfast options that were "healthier yet convenient", said Alessandra Zorzitto, Quaker brand manager. "The new range will be popular for those looking for a wholesome, satisfying and portable breakfast to kickstart the day."
Quaker has also expanded its Super Goodness sachet range into the traditional porridge segment with a standup pouch format (rsp: £2.49/450g). Available from today (3 July) in Original and Blueberry & Cranberry, it was aimed at "shoppers looking to trade up their cereal choice" said the PepsiCo brand.