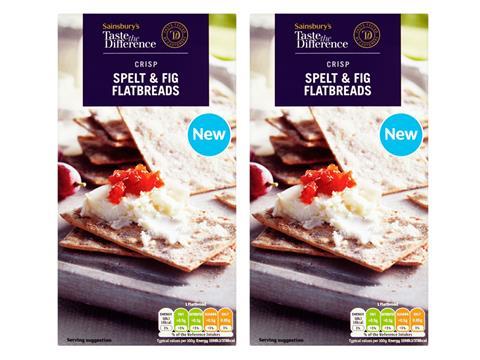 Sainsbury's has expanded its crisps and savoury biscuits range with nearly 40 new products and overhauled its merchandising to satisfy shopper demand for healthier snacks.
The retailer has added 37 lines in total - 26 branded and 11 own label - following a range review in February that focused on premium biscuits and snacking options. Having previously been found in separate segments in store, they are now also ranged together in an effort to make shopping easier.
Branded additions include flatbreads, crispbreads, crackers and rice cakes, with Crosta & Mollica dominating with the addition of five SKUs including Crostini Toasts with Oregano, Rosemary Linguette, and Sesame Baguettini Small Breadsticks. They are joined on shelf by three lines each from Kallo, Arden's, Thomas J Fudge's and Peter's Yard, along with items from Peckish, Cathedral City and Pagen Krisprolls.

The overhauled savoury nibbles selection also sees the addition of own-label products across the Sainsbury's, Taste the Difference and By Sainsbury's portfolios - with NPD including TtD Spelt & Fig Flatbreads and Popped, a trio of crisps in an 88g bag.

By Sainsbury's Flatbreads in Caramelised Onion & Rosemary and Sweet Chilli variants also feature as part of a snacking boost that is set to be revisited by Sainsbury's later this year. "We will be continuing to increase our range within rice cakes and snacks, with more products set to launch this summer," said a spokeswoman.