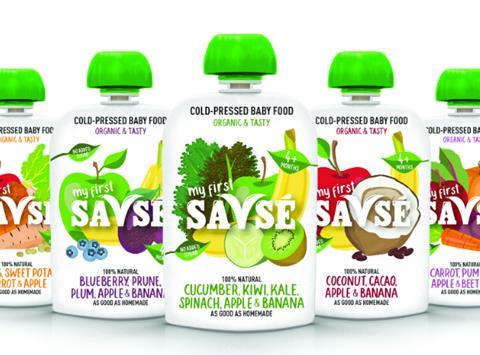 Savse is taking cold-pressing from smoothies into babyfood with the launch of a range of chilled pouches for babies aged four months and over.
In line with the brand's soft drinks portfolio, the My First Savse lineup for stage one feeding is made from cold-pressed ingredients and undergoes high-pressure processing instead of pasteurisation. The HPP treatment eradicated bacteria without diminishing nutritional benefits, said the brand's founder and CEO, Guka Tavberidze. "Although children are physically full after eating some of the pasteurised products in the market, they are not getting all the nutrients and minerals they need."
The new products would fill space in supermarket chillers where the only babyfood products of note were Little Dish's for older babies and toddlers, Tavberidze added. He planned to add options for stages two and three later this year.
My First Savse comes after two years of development that included a £2.5m investment on a packing line at Savse's factory in The Netherlands. The NPD would be "a game-changer", said Tavberidze, claiming a European first in cold-pressed babyfood. "Had we done it two years ago, it would've been a world first," he added, but cold-pressed had become "massive" in the US babyfood category.
Available from 26 May, Savse's selection comprises seven variants including Carrot, Pumpkin, Apple & Beetroot, and Cucumber, Kiwi, Kale, Spinach, Apple & Banana. All come in a 100g pouch, with an rsp of either £1.49 or £1.69 depending on recipe.