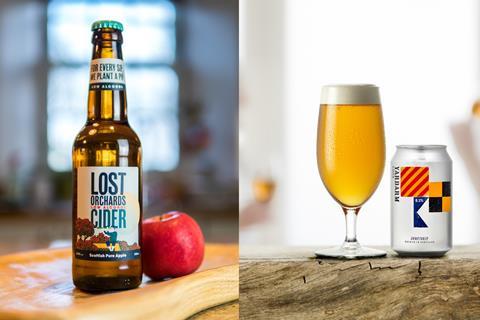 Lost Orchards has unveiled a low-alcohol cider it claims is the first to be brewed in Scotland.
The cider (0.5% abv) uses katy and red windsor apples that are harvested and processed on site to ensure quality and flavour.
It uses champagne yeast to ferment the apple juice, which is then stored in stainless steel pods and left to rest and ferment until it reaches "optimum flavour".
Lost Orchards describes the drink as "light and refreshing" with a "crisp, clean apple finish" (rsp: approx £3/330ml).
It has rolled out to farm shops and the on-trade.
Elsewhere, Jump Ship Brewing is also claming a first with the launch of its first alcohol-free beer, called Yardarm.
It said Yardarm (0.5% abv) was a "crisp, lively lager" with "a good balance of malt and hops".
It has been brewed in small batches using "natural brewing techniques". It combined barley, hops and yeast with Scottish water for "as much flavour as possible with minimal alcohol" (rsp: £1.99/330ml).
It will donate "at least 10%" of profits from the drink to charities nominated by customers.
The launch follows a crowdfunding campaign by the brand, which hit its £15k target in six days.