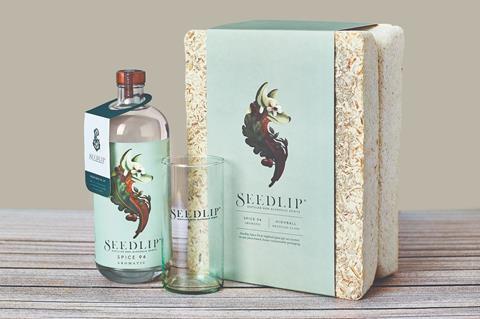 Seedlip is launching what it claims is its "most sustainable gift pack" with packaging made from biomass and mycelium.
The gift box, which contains a full-sized bottle of Seedlip Spice 94 and a 100% recycled glass highball, was a "durable, alternative packaging material that breaks down in compost or flower beds within 45 days", said Seedlip.
It took only eight days to grow a mushroom with suitable mycelium – the fibrous structure that connects mushrooms with their food sources – meaning the difference in carbon between this box and a cardboard box, for example, was "quite incredible", said Seedlip.
The bottle will feature a neck tag with thyme seeds enclosed, with instructions for how shoppers can grow the seeds while utilising the biodegradable box as a planter.
It will launch on 1 October on Seedlip's new sustainable gifting shop, alongside a host of other gifts in sustainable packaging.
William Reed – the publisher of The Grocer – has launched a new exhibition exclusively for the low & no category. For more information, visit low2nobev.com.