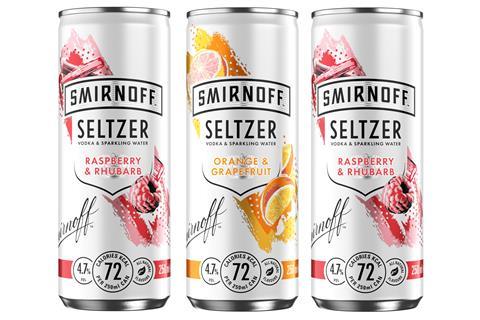 Smirnoff has become the latest booze brand to tap the hard seltzer trend with a duo of flavours.
The Diageo brand has launched two hard seltzers, Raspberry & Rhubarb and Orange & Grapefruit (4.7% abv).
Both are made with Smirnoff's No.21 Premium Vodka combined with sparkling water and natural fruit flavours.
They have rolled out into Sainsbury's, Tesco and Waitrose (rsp: £1.80/250ml).
Smirnoff said the launch came at "an exciting time for the category" as it "taps the consumer demand for spritz-style drinks".
Per 250ml, the hard seltzers contain 72 calories, which Smirnoff added made them "a great alternative for those looking for a lighter calorie option to wine and beer".
Brands in their many have been launching into the hard seltzer category, with Kopparberg one of the most recent to launch a trio of fruity flavoured drinks.
US brand White Claw had also revealed plans to make its UK debut this month, launching into Tesco, Sainsbury's and Morrisons.
But it's not just big brands jumping on the bandwagon – past weeks have seen a deluge of smaller brands make inroads into the fledgling category, such as Two Brooks and Island Bay.