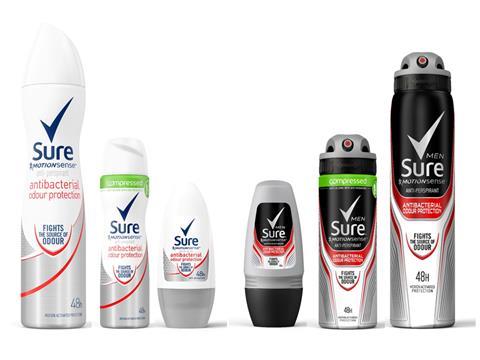 Unilever is gearing up to launch its first Sure antibacterial antiperspirant range.

Debuting in multiples and pharmacies at the end of the month, Sure Antibacterial Odour Protection will be sold in compressed aerosol, regular aerosol and roll-on formats, with rsps starting from £1.99.

The product - available in male and female variants - claims to reduce 90% of odour-causing bacteria through a formulation of 'smart capsules' that release bursts of freshness throughout the day when triggered by underarm movement.

"Consumers have identified body odour as their number-one concern due to its high impact on social confidence, which is why Sure has introduced an antibacterial range of antiperspirants, to stop bad odour at the source," said Claudio Bellen, Sure brand manager.

A £4m marketing push will support the launch, with a TV campaign due to air later this year.