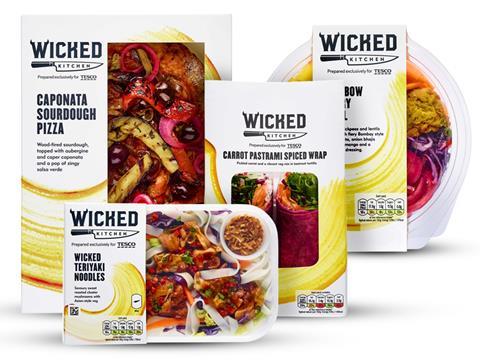 Tesco has launched an exclusive 20-strong lineup of vegan ready meals, pizzas and food-to-go offerings under the brand Wicked Kitchen.

The Wicked brand was developed by Derek Sarno, Tesco's executive chef and director of plant-based innovation, who joined from Whole Foods Market last year. Sarno also co-founded the Wicked Healthy vegan food blog with his brother Chad Sarno.

The range - available at more than 600 Tesco stores from today (8 January) - includes: Carrot Pastrami-Spiced Wrap; Nana's Mushroom Bolognese; Caponata Sourdough Pizza; Gunpowder Potato Chana Masala; and BBQ Butternut Macaroni with rsps between £3 and £4.

"Wicked Kitchen aims to create recipes that delight vegans and give them the options they crave, while encouraging meat eaters to incorporate more plant-based foods into their diets with expanded selections and our bold, delicious and intense flavours," said Sarno.

It comes on the back of a surge in the flexitarian trend in the UK, with Mintel reporting that some 28% of Brits had cut their meat intake during the six months to August 2017.

Sarno, a self-confessed "plant pusher" and Veganuary 2018 campaign ambassador, added: "Tesco has recognised the time is right to significantly expand its plant-based range, and take it from a niche market right into the middle of the mainstream."

It follows a Christmas season that saw Tesco up the ante on its range of vegan alternatives, offering Turmeric Spiced Cauliflower Wellington and Pecan & Peanut Roast centrepieces, while Asda claimed a first with its vegan-friendly mince pie.

Sainsbury's and Ocado launched additions to their plant-based alternative ranges last week as expansions to own label and new branded SKUs hit the shelves. Aldi also got in on the action with a range of vegan-friendly Specialbuys to coincide with the beginning of Veganuary - a movement that saw nearly 60,000 pledge to go plant-based for January in 2017.