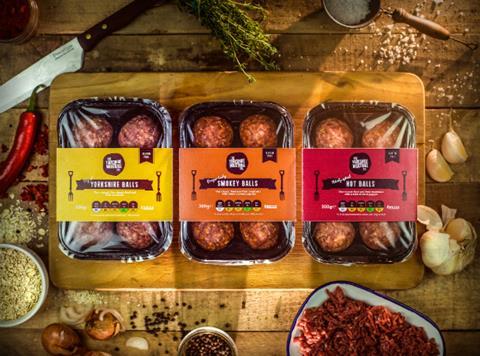 Restaurant chain The Yorkshire Meatball Company has expanded into retail with a range of meatballs, after securing funds through crowdfunding.

The speciality meatball eatery and craft beer bar has secured 200 listings across Asda, Tesco and Morrisons stores for its line-up of meatballs (rsp: £3/300g). Three beef and pork products inspired by the restaurant's menu will be available: Yorkshire Balls, with garlic and herbs; Smokey Balls, which features Spanish paprika; and Hot Balls, which includes chilli pepper.

The restaurant raised £130,650 from its crowdfunding campaign on Crowdcube earlier this year. Co-owners (and father-and-son team) David and Gareth Atkinson hope to expand the original restaurant in Harrogate and add two more sites to its portfolio alongside the retail launch.

"In the current food retail market, meatballs are typically quite small at 30g – whereas ours use quality, locally sourced ingredients to make larger meatballs, at 50g," said David Atkinson, who believes there is a gap in the market for a premium meatball brand.

The business's aim for the end of its first year in retail is to be supplying 5% of its target market – approximately 500 stores – increasing to 10% by the end of FY2018.
"It's an exciting time for the whole team as we establish ourselves as the first true premium meatball brand in the UK, taking the fight against average, tasteless meatballs nationwide," said Atkinson.