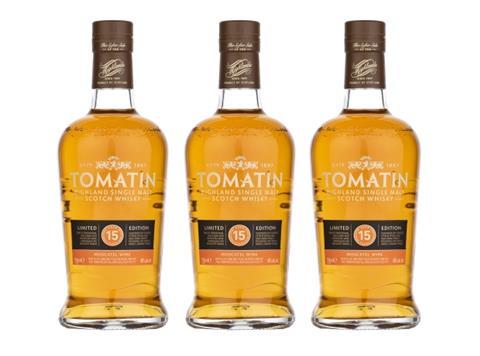 Highland distillery Tomatin has added a new limited edition whisky finished in Portuguese Moscatel wine.
Only 6,000 bottles of the 15-year-aged tipple (46% abv), which is finished for five years in Moscatel barriques, have been made. It has rolled into specialist retailers (rsp: £75/70cl).
It was a "full bodied and intense single malt", said Tomatin distillery manager Graham Eunson, which "may be unusual in as much as it is finished in first fill Moscatel barriques, however this really accentuates what Tomatin whiskies are known for being: smooth, light, sweet and fruity".
The Moscatel delivered "pronounced fruity notes whilst also featuring an intense aromatic nose. The Portuguese wine characteristically has aromas of jasmine, orange blossom and honeysuckle, with the addition of citric notes of lime and grapefruit and other hints of sweetness".
It marks the latest in a series of experiments with wood for the distillery, which has previously released expressions aged in Cabernet Sauvignon and rum barrels.
Last month the brand announced with its financial results that its turnover had surged 25% over the last financial year to some £18m, with operating profit growing 14% to £4.03m. Its MD Stephen Bremner said Tomatin had "gained a solid foothold in the international whisky market".
"Following a couple years of decline, the whisky market is back on its feet and Tomatin is steadily seducing the new wave of whisky drinkers - not just on Scottish soil, but globally."