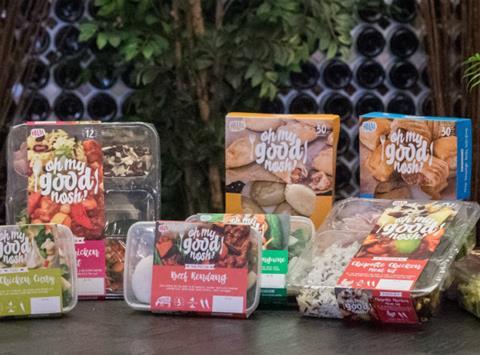 A North London startup is looking to take halal mainstream and upmarket with a 15-strong range of ready meals developed with a former Tesco development chef and made with free-range British chicken.
Oh My Good Nosh! (OMGN) is the brainchild of Shazia Saleem, who self-financed the launch with additional funds from a number of independent investors. All 15 chilled SKUs, developed by Lucas Floris, former chef at Tesco Finest and Kerry Foods, are approved by the Halal Monitoring Committee.
OMGN's halal credentials, coupled with its use of free-range chicken, were key points of difference that "everyone can enjoy" she told The Grocer. "They've certainly helped us to land the listings we have."
As someone who followed a halal diet herself, Saleem said she had been frustrated by the lack of halal-friendly ready meals available. She had founded OMGN to "create food just as good, if not better, but accessible to everyone".
Individual meals, meal kits for two, soups and snacks began rolling out to Sainsbury's on 20 September and will land on shelf in Asda at the weekend, with listings in Tesco to kick off in late October. The brand would be available in 500 grocery stores around England and Wales by the end of the year, said Saleem. Rsps range from £2.50 to £6.50. All products are produced in Lincolnshire or Swansea, while the chicken is sourced from Leicestershire.
Saleem hoped to extend the brand's listings "over the next year or two – and not just in the UK", establishing it as one "people think about when they want great-tasting food that's adventurous but also ethical".
She added she had chosen HMC over other halal bodies because it provided "the best end-to-end traceability". The body also disallows stunning.
The launch of OMGN will be marked with two charity collaborations. All profits from October from sales at Sainsbury's, Ladbroke Grove will go to support the victims of the Grenfell Tower fire, while 100% of profits from sales of the Chicken Kabsa variant will be donated to Unicef to help provide emergency food parcels for children affected by the conflict in Syria.