Each month The Grocer takes an in-depth look at the hottest upcoming booze launches. This time round we're focusing on the booming low and non-alcoholic sector with a slew of launches for the moderating drinker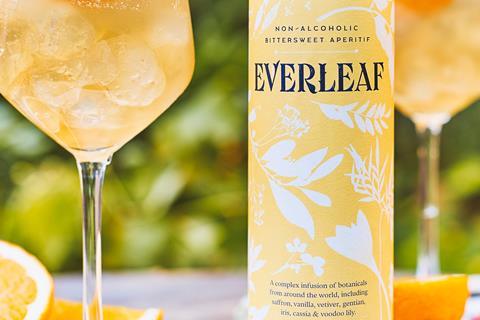 Everleaf
Riding high on the vogue for aperitifs and spritzes, Everleaf has already made it into 150 Sainsbury's stores on the supermarket's 'Future Brands' programme, as well as a variety of venues on London's cocktail scene.
It is the brainchild of bar owner Paul Matthew, whose background as a conservation biologist has seen him study plants all over the world. Everleaf contains 18 sustainably sourced botanicals, ranging from Madagascan vanilla through to Spanish saffron.
The brand calls it "bright and bittersweet" and suggests it be paired with either a soda or tonic water to create a "quintessential summertime spritz" (rsp: £18/50cl).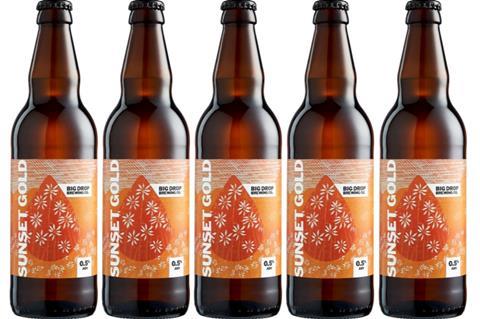 Sunset Gold
Non-alcoholic craft brewery Big Drop has unveiled a new take on the premium bottled ale: Sunset Gold is the brand's first drink to launch in 500ml bottles rather than the traditional crafty 330ml.
It is billed as a "hay-coloured beer with a fresh floral aroma" with "a gentle bitterness and lingering finish", and is made with Challenger hops.
The brand is currently mounting a major push into cans, and claims it will package 6,500 hectolitres of beer this year in the format. Holland & Barratt began stocking bottles of its new gluten-free, vegan lager in cans in July, and Tesco Extra has just started selling Big Drop's stout in them.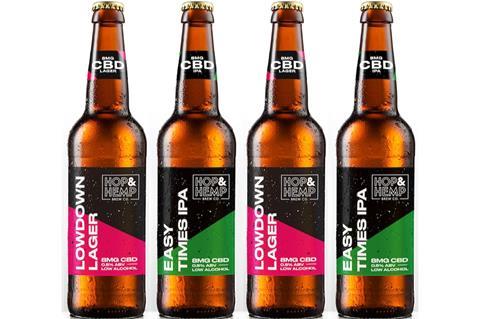 Non-alcoholic, CBD-infused craft beers
The aptly named Hop & Hemp has added a duo of CBD-infused craft beers. The brews, Easy Times IPA and Lowdown Lager (both 0.5% abv) are made with 8mg of CBD per bottle, which Hop & Hemp claims "helps take the edge off an evening" (rsp: £13/4x330ml).
Easy Times is billed as a "full-on IPA that delivers aromas of grapefruit and lemonade from the triple addition of American hops" which "doubles down on the fruitiness and brings in flavours of biscuit and honey", while Lowdown Lager is "a crisp, golden pilsner-style lager that hits the palate with a gentle, spicy hoppiness and follows with notes of citrus and a lingering sweetness".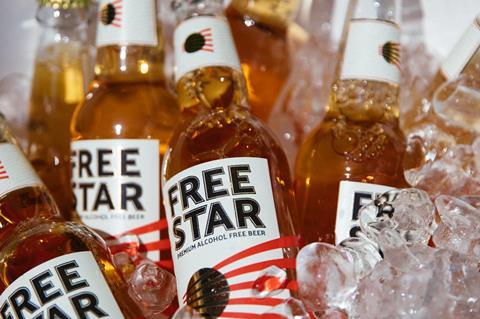 Freestar
Launched earlier this summer, alcohol-free beer Freestar has already made waves, having picked up a 2019 World Beer Award for what judges said was its "good head", "good hop nose" and "nice mouthfeel".
Founded in March 2019 by three friends who held senior roles at Tesla, Sipsmith and Propercorn, the startup claims to have pioneered a new way of making alcohol-free beer by blending ingredients rather than brewing them.
It also promises to be a guaranteed 0.0% as it does not use yeast in the blending process.
"We blend malted barley and Perle hops with pomelo and bergamot to create a world-beating, great-tasting alcohol-free beer. The old way destructively strips alcohol and flavour out of full-strength beer," says co-founder Charlie Crawley.
"Choosing not to drink alcohol shouldn't mean choosing to compromise. So we created a ground-breaking beer that lets you get more from your night."
Freestar is available through wholesalers Bibendum and Nectar, as well as on-trade accounts across London.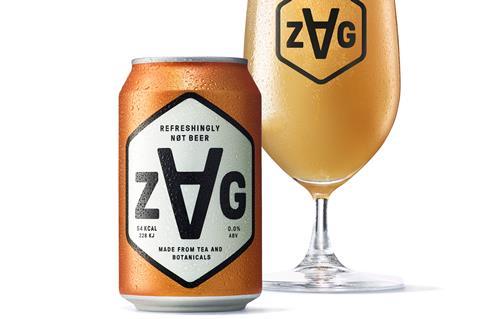 Zag
Offering a low-calorie proposition alongside being alcohol-free, new drinks firm Zag Drinks promises to deliver the "characteristics of a beer-drinking occasion", without mimicking its flavour.
Coming in at 54 calories per 330ml can, Zag's blend of matcha green tea and botanicals including mint, cucumber, lime and lemon aims to emulate the company's slogan – "refreshingly not beer".
"Alcohol-free beer has improved over the years and provides an important role for consumers who want a social drink but cannot, or do not want to drink alcohol," says Jerry Goldberg, co-founder of Zag Drinks.
"However, we realised that alcohol-free beer still doesn't taste as good as beer – beer needs alcohol to create that magical beer flavour.
"We have taken beer's major attributes – a long, refreshing drink that's not too sweet and looks good in a glass – and created an alcohol-free drink that delivers these without attempting to taste like beer."
It is soft-launching this month ahead of a national rollout in the next three months.