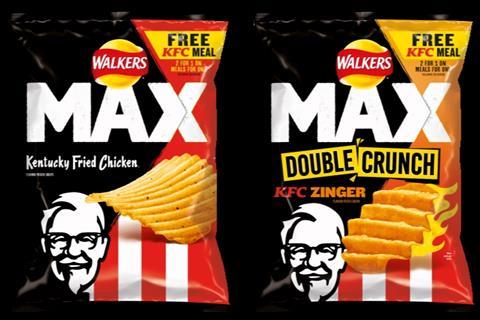 Walkers has teamed up with fried chicken giant KFC for a duo of new crisp flavours.
The two brands have partnered to create two flavours: Walkers Max KFC and Walkers Max Double Crunch Zinger, which will roll out into the mults from 13 January.
The former is said to offer the "signature flavour" of KFC's fried chicken, while the latter had a "hot and spicy KFC Zinger flavour", said Walkers.
The tie-up was "a no-brainer for us", said Walkers Max senior brand manager Katherine Cook. "There are a number of synergies between our brands."
The flavours will launch with a limited promotion offering shoppers a two for one KFC meal with every pack, which will be valid until 31 July 2021 and will be valid for dine-in meals "once restaurants have fully reopened", said the brand.
A marketing push for the crisps will debut in February, though Walkers did not share any details about the content or scope of the campaign.
The launch comes on the back of a solid year for Walkers in the mults: the brand added £27.2m to its value in 2020, growing 6.7% to £436m over the 52 weeks to 5 September [Nielsen].