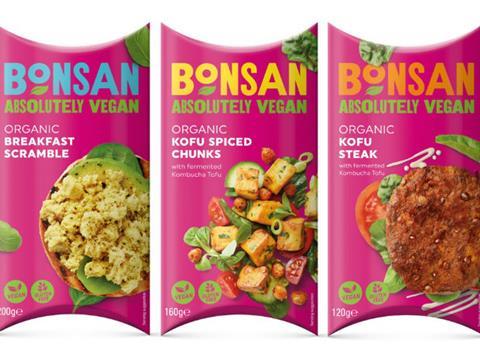 Ethical food brand Windmill Organics is set to launch a new range of vegan ready-to-cook meal solutions and meat, egg and dairy alternatives.

The Bonsan Absolutely Vegan range will debut on 1 July in Ocado and Whole Foods Market, aiming to make vegan and organic options accessible with prices from £2.69-£4.19.

Its initial range features 11 products including a spiced tofu Breakfast Scramble and fermented kombucha cultured tofu (kofu) chicken-style chunks, sausages and steaks. The kofu lines are designed to tap into the demand for fermented and gut-friendly foods, said marketing executive for Windmill Organics Molly White.

"They're full of flavour; rich in protein and gluten-free, so ideal as a vegan meat alternative. With an increasing amount of people looking for cruelty free meat alternatives, we think these products will really appeal to a large audience," she added.
The Bonsan range also features a duo of soya-free vegan mayos, in cocomayo and garlic aioli variants as well as sweet mustard and caesar-inspired salad dressings and a trio of almond-based alternatives to cream cheese.

The brand described its three almond spreads as "smooth" and "versatile", adding the original, bell pepper and wild garlic flavours could also be used as dips for crisps or used in cooking to create a creamy sauce.

Windmill Organics owns a host of other organic and vegetarian brands including Raw Health, Biona and Profusion.