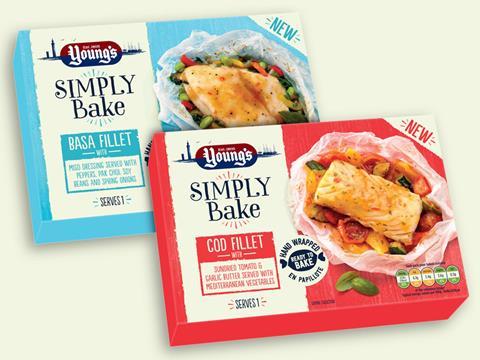 Young's Seafood is set to extend its Simply ready meal sub-brand with the launch of Simply Bake, a range of two fish fillets hand-wrapped in paper.
The frozen duo comprises a Cod Fillet with sundried tomatoes, garlic butter & Mediterranean vegetables, and a Basa Fillet with miso dressing served alongside peppers, pak choi, soy beans and spring onions. The two products will roll out in Sainsbury's from 26 October (rsp: £3.50).
Simply Bake aimed to attract a younger "foodie" audience to the frozen fish category by "combining inspirational recipes, with the highest quality ingredients" , Young's said.
The products could be eaten as a light, standalone evening meal for one or with a side dish, the supplier added.
Each ready meal features a fillet hand-wrapped in baking paper in a method known as 'en papillote', which holds in moisture to steam the fish and its accompaniments.
The pair are the third and fourth products to be launched under the Simply sub-brand, joining Young's Simply Steam range, which debuted in Tesco last month.
"We are continuing to use our new 'Simply' platform to revolutionise the freezer aisles with innovative, convenient products of the highest quality," said Young's marketing director Yvonne Adam.
"Simply Bake taps into the health mega-trend, as more consumers ask for meals that are high in protein, low in calories and taste delicious."