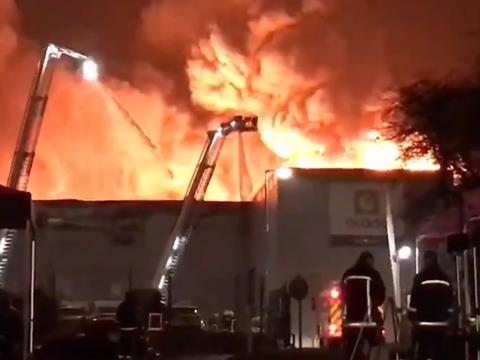 An evacuation area around the Ocado warehouse fire in Andover has been lifted, emergency services have said.

Properties up to a mile from the facility were evacuated yesterday amid fears of a toxic gas leak or explosion.

Hampshire Fire and Rescue Service said this morning that firefighters had worked hard through the night to safely remove toxic chemicals from the 240,000 sq ft facility.

Roads around the site had been reopened and the fire was no longer considered a major incident, though firefighting operations continued, the service said.

Chief fire officer Neil Odin said yesterday that efforts had been complicated because areas of the site were difficult to access.

"This building is not meant for humans to be interacting with the racking and the storage - it has robots moving racking on to loading bays, so for firefighters trying to get in that high and to make an effective firefighting strategy, it has been very difficult," he said.

He said the initial fire, which started on Tuesday on the elevated grid on which the robots move, had taken a "dramatic turn" yesterday, requiring firefighters to be withdrawn.

Four firefighters were treated for minor smoke inhalation while no Ocado staff had been injured.
"We are pleased to have been able to safely remove the chemicals from the site throughout the night and into the early hours of this morning, meaning we can lift the evacuation zone," HFRS group manager Nigel Cooper said in an update today.

"It is thanks to the efforts of all our teams, on the ground and elsewhere, that we managed to contain the incident when it unexpectedly escalated late yesterday afternoon."
Some 200 firefighters tackled blaze, including neighbouring crews in what was a "challenging and complex incident", the service said.

"Our teams and colleagues from Oxfordshire, Dorset & Wiltshire, Royal Berkshire and Hertfordshire have shown commitment and professionalism in dealing with a complex operation in incredibly challenging circumstances," added Cooper.

About 20 families were evacuated from homes within the exclusion zone to a rest centre set up in Harrow Way Community School.

Ocado said in an update this morning that it had sent vans with food, drink, nappies and other essentials.

'We apologise to all those affected by this incident and are very thankful to the people of Andover for their understanding and support during this difficult period,' the statement said.

'We would like to once again thank the Hampshire Fire Service, the Hampshire Police and all the other emergency services and agencies for their hard work and professionalism in dealing with this incident.

'As previously announced, there has been substantial damage to the Andover building and its contents. Ocado is working hard to minimise disruption for customers by increasing capacity at other facilities. Ocado is grateful for the patience and understanding of customers during this period.'

The facility can process around 65,000 orders week and provides about 10% of Ocado's full capacity. It's one of four Ocado UK CFCs and one of two to be automated with robots, the other being Erith, in London, which opened last year.

Ocado shares dropped 6.3% yesterday after the online supermarket said the fire would affect its sales growth.