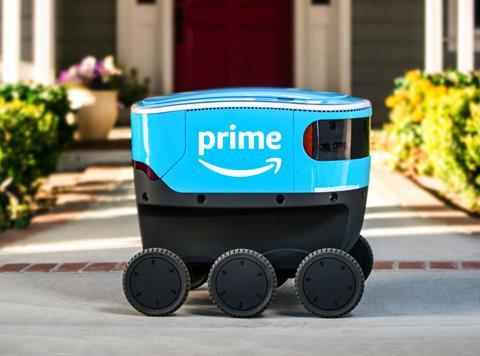 Amazon has launched robot deliveries with the introduction of a fleet of six-wheeled autonomous machines in the US.

Six of the 'small cooler' sized robots began making deliveries yesterday in an area of Snohomish County, Washington, including same-day orders.

The 'Amazon Scout' machines are similar in appearance to the robots developed by Starship Technologies that are currently used to deliver Tesco and Co-op groceries in Milton Keynes.

They travel at walking speed and can safely navigate for themselves, avoiding humans and other obstacles, but are initially being accompanied by an employee, Amazon's vice president of the Scout project, Sean Scott, wrote in a blog post.

The Scouts, which were developed at Amazon's research & development lab in Seattle, are in service during daylight hours from Monday to Friday.
'We are happy to welcome Amazon Scout to our growing suite of innovative delivery solutions for customers and look forward to taking the learnings from this first neighbourhood so Amazon Scout can, over time, provide even more sustainability and convenience to customer deliveries,' Scott wrote.

San Francisco-based Starship Technologies has been using its 4mph autonomous rolling robots to offer deliveries from a Co-op branch near the tech startup's Milton Keynes facility since April last year. Last month the service was extended to a Milton Keynes Tesco Extra.

Amazon is also working on drones for delivery, with the target of getting orders to customers within 30 minutes. In 2016 the company said it had successfuly trialled one of the devices to deliver a package to a customer in Cambridge in 13 minutes.