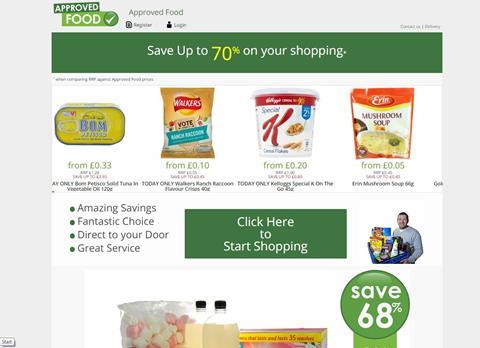 Approved Foods, the online short-dated grocery retailer, has been inundated with offers of supplies after being featured on this week's Bargain Fever Britain on ITV.

The surplus stock and past best-before goods specialist was approached by 15 suppliers within 48 hours of appearing on the show.

In the past six months, Approved Foods has more than doubled its supply chain and is signing up three new unsolicited suppliers a week on average. Tesco is already on the list of suppliers who provide stock for the business to sell at up to 70% less than the original price.

"The number of suppliers, manufacturers, distributors, brand owners and retailers getting in touch with us to sell their 'problem' stock over the past six months - whether it is pasta packets, sweets, cleaning products, household essentials or tinned food - has been amazing," said founder Dan Cluderay. "We are particularly pleased to be in a position where we are now supporting major supermarkets including the largest out there. By working together we really believe we can make such a huge difference to the environment, and people's pockets."

This was not Approved Foods' debut appearance on primetime television. The business was shown on Dragons Den in May last year but failed to attract any investment. Earlier this year, founder Cluderay also featured as a guest on Loose Women, which lead to a new sales record within 24 hours of the programme airing. During the latest appearance on ITV, viewers watched the team at the seven-year-old business tackle the difficulties of Black Friday and moving to a new 60,000 sq ft warehouse in Sheffield. "For starters, people are increasingly aware of us and of course that helps with increasing both our customer and our supplier base. But, more than that, our efforts to educate people about the difference between best before dates and use by dates is starting to pay dividends." said Cluderay.