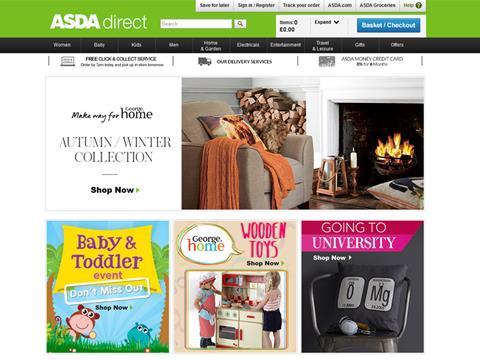 Asda is to close its Asda Direct general merchandise website as it looks to simplify its online services for shoppers.
From February 2015, Asda Direct – which sells everything from books and garden furniture to electricals – will be merged with the retailer's other two online stores: Grocery Home Shopping and George.com.
The latter will become a "lifestyle site", offering George fashion and home ranges, as well as toys, furniture and baby equipment. Theses ranges will also be expanded, according to Asda, "applying the George principles of price, quality, affordable style and design, to new areas". However large electrical and DIY items would only be available in store from next year, Asda added.
The overhaul supported Asda's five-year strategy to "lead online", as outlined in November 2013, said Asda president and CEO Andy Clarke. "In what is still a challenging market, I am delighted that we are able to make an investment that will not only step up delivery of our strategy, but also bring new and convenient ways for our customers to shop with us.
"We're also creating an online experience that logically fits with how our customers want to shop and focuses on the areas that our customers love. Ultimately, we want to give more people access to the price, quality and style that we are famous for."
Asda also revealed it was looking to boost the number of click & collect points from 400 to 600, expand Drive-Thru click & collect from 140 to 200, and increase same-day click & collect services from 280 to 380 sites.
Also today, Asda said it would be installing temperature-controlled click & collect 'pods' on sites around London and the South East from 2015.