Hard work during the festive season paid off with broadly positive financial results for grocery. Spend in the four weeks to 30 December rose nearly 4% year on year to £10.5bn [Nielsen].

And technology certainly contributed. Supermarkets able to track customers' online signals of intent would have known where to focus stocking and marketing.

Businesses able to answer customer queries about store opening times and where to buy that last-minute brandy butter will have enjoyed an advantage. Morrisons, for one, said improved stock availability helped contribute to its 2.8% sales rise in the 10 weeks to 7 January, well ahead of the 1.7% expected by analysts.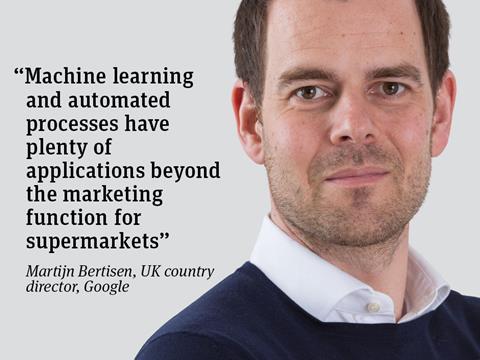 Management who can attribute festive wins to smart use of technology now have leverage to request more investment in 2018. Some pointers to future technology could be found at the Consumer Electronics Show earlier this month. The shiny hardware on display ranged from the fridge that can 'read' its own contents and then suggest a recipe to cars with smart infotainment systems. Prominent were the number of gadgets featuring built-in voice assistants. Speakers with smart assistants have caught the public imagination and sales grew by more than 100% in the final quarter of 2017 year on year [Adobe]. With forecasts that half of of all searches by 2020 will be done by voice, brands need to figure out how they will be able to surface their own products to an audio query.

Google has unveiled partnerships with hardware manufacturers for a range of speakers featuring smart displays and this new category will help brands engage with potential customers using voice search. It means people can see results as well as hear them. Imagine being able to watch a video on how to properly de-stone an avocado while hearing the location of the nearest store with fresh stock.

The connected devices at CES all use sensors to link to the internet of things and the same tech can gather all kinds of useful data, which can be interrogated by machine learning. The resulting insights can feed into continual improvement of products and services as well as personalisation of customer experience.

Machine learning and automated processes have plenty of other applications beyond the marketing. The right technology can be used to measure and improve energy efficiency, spot friction in the supply chain, and monitor demand for perishable foodstuffs to reduce wastage.

And now it's time to say goodbye. I am handing over the writer's baton to my colleague Harry Walker, who will continue to provide news and insights about the latest innovations. The opportunities will be amazing.

Martijn Bertisen is UK sales director at Google