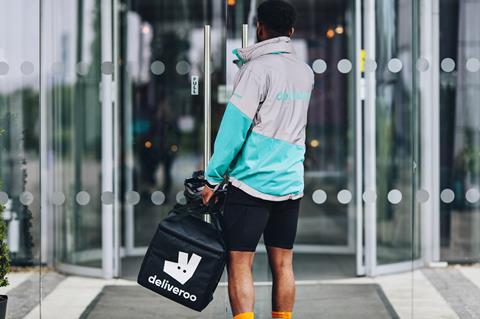 The Co-op is set to roll out its partnership with Deliveroo to 400 stores by the middle of next year as it scales online home delivery nationwide.

The convenience retailer is also dramatically ramping up its own e-commerce operation, launched in March using a new Co-op branded website and a single store in London's Chelsea. That service had now reached Manchester and 32 stores in London, and would have "75% coverage within the M25" by the end of next week, Co-op head of e-commerce Chris Conway said.

The ambition for the separate "burgeoning partnership with Deliveroo" was revealed by Co-op head of commercial strategy and planning Ben Kisby. "That will be going up to about 400 stores through mid-2020," he told an audience at the IGD Live conference in London.

The Deliveroo partnership launched around a year ago from five stores in Manchester and had extended to 17 more in London, Brighton and Milton Keynes by May.

Conway told The Grocer branches in Plymouth, Exeter, Liverpool, Leeds and Newcastle had since been added. "We're really pleased with the volume that's going through that business," he said.

The Deliveroo service offers a selected menu of food and drink including alcohol, while the Co-op's own service at shop.coop.co.uk offers a bigger range of around 1,500 products.

Around 90% of the latter's two-hour deliveries in London are done by electric cargo bike, and others by courier firm Stuart. Next month the operation is to get its first big marketing push "now we're comfortable the service is stable and we're really proud of it", said Conway.

Orders on shop.coop were "quite varied, from someone ordering a pack of Doritos to our absolute favourite which was a bottle of champagne, a packet of condoms and a box of Coco Pops", said Kisby, who was promoted last month from head of category development.

"We're putting a lot into this and it's really about thinking about convenience as a mindset and a solution, rather than a store that's under 3,000 sq ft," he added.

In other revelations from the pair, Conway said the Co-op's Pay in Aisle checkout-free shopping app was now "available in 40 stores across the country and going particularly well and we're quite proud of that piece of work". It was launched last year in two stores, including one at the Co-op's Manchester HQ, and had reached 30 by July.

Since last year the Co-op had also been trialling taxis and couriers for home delivery of shopping bought in stores, using tech startup Lineten to send order information to local hire firms. Eight of the 209 stores offering in-store home delivery had trialled taxis and 14 had used couriers.

However, Conway revealed that the trial "hadn't really worked" and the relationship with Lineten had ended in the "last few weeks".

The partnership had been seen as a way that the Co-op could rapidly scale online delivery, but Conway said: "Customers aren't quite ready to have a different taxi driver turning up with their shopping every week when they're used it being delivered in a [Co-op] van."

He said couriers that were used to non-food orders were sometimes "not enthusiastic about it. Some of them don't like carrying shopping up two flights of stairs for an old lady who has purposely asked for it to be delivered."

Conway said one of the biggest learnings from the trials was that customers liked delivery by electric cargo bike. "We've learnt a lot from these trials and actually what we've learned is that customers want us to be green and they want us to do things the Co-op way."

In yet another trial originally launched in spring 2018, the Co-op has been using automated delivery robots from two stores in Milton Keynes. Conway told The Grocer that might reach 10 stores including university campuses, but never the scale of the other trials.

The Grocer revealed last month Deliveroo had rapidly ramped up delivery for independent convenience stores in London, taking the number from around 20 to over 200 in the space of a few months.

The Competition & Markets Authority is investigating an investment by Amazon in the delivery firm over concerns the two may have "ceased to be distinct".