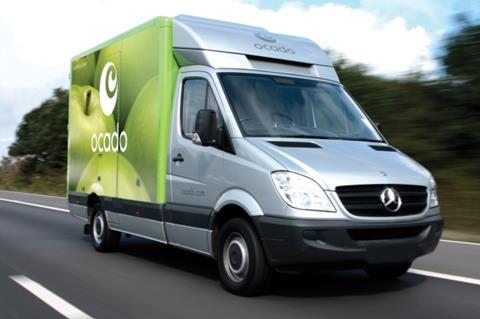 Ocado has suspended its mobile app and turned away new orders as major supermarkets' online services creak under the strain of the coronavirus outbreak.
Ocado customers were told yesterday the app had been taken offline "due to performance issues driven by continued high demand". The move came after the online grocer introduced a "virtual queuing system" on its website, warning of 30-minute wait times.
The website was today telling customers not to wait if they intended to place new orders. "We have no new delivery slots for the next few days so please only wait if you are trying to edit an imminent order," a message said.
It's understood the site has seen a 1,000% uplift in traffic.
On Friday, Ocado was forced to "temporarily prioritise delivery" for existing customers and on Saturday stopped processing new customers. The company said it was "working hard to increase our delivery capacity". Further technical glitches saw some orders due for delivery yesterday cancelled at short notice.
Waitrose.com has been intermittently unavailable since yesterday. A message on the site today said: "Sorry, waitrose.com is unavailable. We are working hard to get it back up and running, so please do try us again a little later."
It was down to "IT issues due to the amount of traffic on the site", Waitrose said.
A spokeswoman added: "Our online teams are working to ensure smooth access to our website for customers. In practice this may mean some customers get a temporary message and a delay to access or placing an order. If this is the case this would likely be a brief delay, and a small proportion of customers visiting the site. We're sorry for any inconvenience."
Sainsbury's site was today showing no delivery slots available for the next three weeks in parts of the country. A message on the website said: "We have limited delivery availability due to extremely high demand. We are doing everything we can to improve this situation, please check back regularly for latest availability."
Sainsbury's has also been forced to cancel some deliveries at short notice. "We have limited delivery availability due to extremely high demand," the supermarket told some online customers.
Both Tesco and Morrisons sites were today offering no delivery slots until next month in parts of the country.
Tesco said it was working at full capacity and encouraged customers to visit stores as usual where possible.
Iceland, whose site takes orders up to a week in advance, also had no slots available in some areas. An Iceland spokesman said: "Our online delivery slots are currently fully booked up to and including the coming weekend. We still have some slots available for the home delivery of in-store purchases, offered free of charge for purchases of £25 or more."
Availability on Asda seemed slightly better, with delivery slots available next week.
Smaller player Planet Organic yesterday halted online orders. "We have made the difficult decision to temporarily suspend new online orders," a message on the website said. "Over the next few days, our priority is to make sure that we meet the demand from existing orders." The chain's eight London stores were open as usual, the message added.
A Planet Organic spokesman said: "Supplies are holding up. Planet's buyers have been very proactive. But the logistics of meeting the surge in demand online and in-store have led to this temporary halt on e-commerce. Any online customers who will experience small delays receiving their orders are being informed."
Meanwhile on-demand, rapid delivery services were also reporting a huge spike in demand.
A message on the website for Ocado Zoom, the online supermarket's one-hour service in parts of London, today warned: "We're experiencing high demand at the moment so our on-demand service may have limited availability."
Grocemania, which does rapid deliveries for independent grocers in London and Brighton, said it was receiving five times the usual number of orders.
Ready meal delivery firms are also feeling the strain. Muscle Food CEO Nick Preston said: "We have seen an increase in demand for our products over the past week with orders trebling and continuing to rise.
"Delivering food to the nation is going to be crucial over the coming weeks and we will be playing a part in that. All production sites are now working around the clock producing our healthy ready meals, our distribution centre is gearing up to increase our load capacity and our partner company DB Foods are working tirelessly sourcing our meat products. It's a huge effort but one we are confident will succeed."