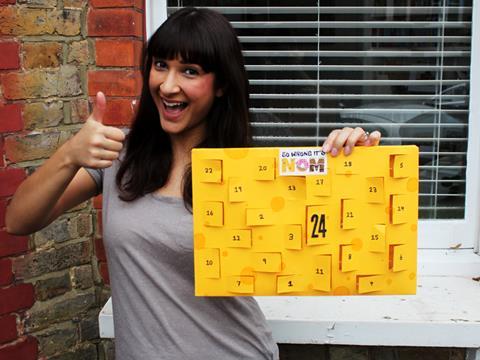 Food blogger Annem Hobson has secured a supply deal with a major cheesemaker for "the world's first" cheese Advent calendar.

Hobson, of sowrongitsnom.com said the calendar would launch in time for Christmas after she secured a deal with Norseland.

The deal will see the creation of an alternative to regular chocolate Advent calendars, with 24 cheeses replacing the chocolate pieces. It comes after a previous supplier left the project last year.It would be targetted at 20 to 40-year-olds, with an estimated rsp of £20 to £25, said Hobson. Packaging is expected to be finalised in the next couple of weeks, and would require "lots of care and attention" due to the calendar needing to be refrigerated.

"There will be a mix of different varieties for people to enjoy," said Hobson. "Norseland have an impressive portfolio of loved brands.

"From the moment I spoke to them, I knew they were the right team to work with. They already have a range of snacking cheese, which lends well to an advent calendar, but they also showed a huge amount of enthusiasm to make this project happen. They're just as excited as I am and full of great ideas to make a success of it."

Norseland, however, was tight-lipped on the deal when approached by The Grocer this week.

Hobson has also launched a Cheester Egg in collaboration with artisan cheese company Wildes Cheese (rsp: £14.95/260g). The product features a specially devised recipe based on the supplier's Napier variety, and is a solid block of hand made semi-hard cheese. It is available online from Hobson's blog, and various markets across London.

"Chocolate is okay, but it's a little boring and frankly I'm sick of seeing it dominating key retail periods. Cheese is what excites me, so I'm thrilled my plans for a Cheester Egg have finally hatched and that the Cheese Advent Calendar is becoming a reality," said Hobson who owns the trademark for Cheester Egg.

In February, cheese brand Wyke Farms registered similar trademarks for Cheaster and Cheesemas. However, the brand denied it was collaborating with Hobson, and said the names had been used by Wyke Farms in campaigns for over 10 years.