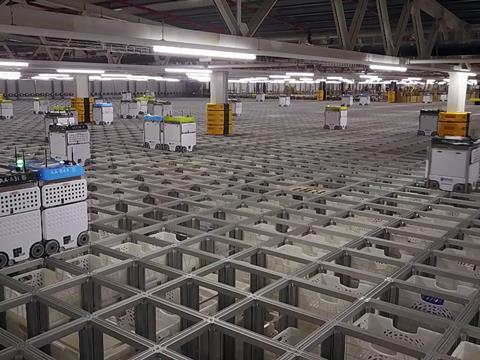 Today's consumers can get exactly what they want, whenever they want it, instantly and effortlessly – and their expectations of retailers are changing. Advancements in technology and fulfilment have made people more impatient than ever and we can see this as they search more and differently. For example, search interest for 'same-day shipping' increased by 185% from January to June 2017, compared with the same period in 2015.
These increasing expectations from consumers mean a seamless fulfilment experience is crucial to a retailer's ability to drive both shopper acquisition and loyalty. This was made clear with the closure of Tesco Direct. Achieving profitability is not easy and all retailers, in particular grocers, need a clear vision for the development of fulfilment services.
Ocado does have such a vision: I was fortunate enough recently to visit Ocado's latest customer fulfilment centre in Andover and I was blown away by the technology, in particularly the combination of machine learning (ML) and robotics used to speed up the laborious business of assembling orders. All of this enables multiple items for an single order to be picked simultaneously and transported in seconds to be packed.
For the number crunchers among you, the warehouse will process 65,000 orders per week at capacity (Ocado currently delivers around 260,000 orders a week across its UK operations). Constantly looking to enhance its warehouse robots with ML, thousands of the warehouse robots continually stream data into Google Cloud Storage and Google BigQuery. Ocado's data scientists then apply ML to extract insights that can increase efficiencies. These will ultimately aggregate into tangible operational gains - for example, understanding wear and tear patterns to optimise maintenance.
All retailers need to consider this use of data and technology as an approach. Ocado's technology-driven strategy is clearly realising its potential as the company recently announced the latest in a line of Smart Platform partnerships with US retailer Kroger, entering the FTSE 100 for the first time.
Fulfilment needs to evolve at speed. Yes, it is costly for omnichannel grocers at present, but technology can help streamline operations and move fulfilment towards break-even in the medium-term. The development of in-house, bespoke tech solutions for fulfilment will take time and investment, so in the meantime there are a variety of different business models to consider.
The winners will be those who not only focus on in-house innovation built on technology but are also open to partnerships, where sensible. Walmart's 2017 acquisition of e-commerce expert Jet.com to help it develop a competitive edge has broadly been seen as a successful move, but perhaps it is more realistic for many retailers to work with a nimble tech player that specialises in this area.
There are a raft of startups offering shopping services worth investigating. Home Run is an example of a business taking advantage of opportunities in the UK. It offers one-hour delivery for a number of supermarket partners within certain London districts using a model similar to the very successful Instacart model from the US.
Study other retail sectors – fast fashion retailer Quiz operates both stores and e-commerce and has just reported double-digit growth – and talk to the entrepreneurial companies behind new platforms and apps to see what you can learn. Perishables offer a huge and unique delivery challenge but there are an abundance of ideas and potential solutions available worth exploring.
Harry Walker is industry head, grocery retail, at Google