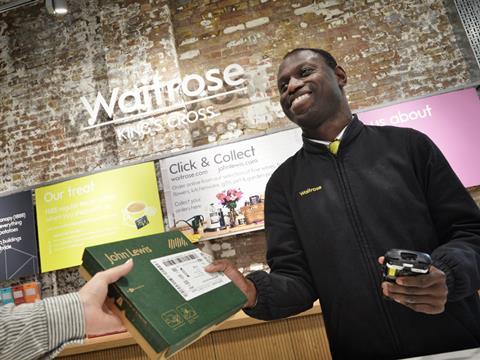 Christmas online grocery sales show demand for scheduled deliveries has peaked, with growth coming from on-demand alternatives, according to a leading analyst.

Supermarkets to see the highest growth achieved it through alternatives such as click & collect, according to Ray Gaul, senior VP of retail insights at Kantar Consulting.

One of the highest growth levels was achieved by Waitrose, whose Christmas trading statement boasted a 12.8% increase in online sales in the seven weeks to 5 January. The performance came with the extension of the Christmas click & collect cut-off point across all Waitrose stores.
Along with other supermarkets' trading statements, it showed that "Home delivery, where you book a time slot, seems to have reached maximum household registrations," said Gaul. "We are seeing a lot of momentum from grocery retailers trying to do something different," he added.

The number of Christmas Eve click & collect Waitrose orders was 52% up on the year before, according to the trading statement.

Gaul also cited Tesco, which recorded a 2.6% like-for-like increase in online sales in the six weeks to 5 January. The retailer said in its trading statement there had been a 3.8% year-on-year increase in subscribers to its Delivery Savers service, which charges a monthly fee and provides deliveries at no extra cost.
Gaul said that overall there had been "a trend with people dropping out" of scheduled home delivery services in favour of those catering for "smaller basket/higher frequency shopping".

He said third-party rapid delivery companies using couriers were also "privately saying they saw upticks in customers looking for more instant shopping solutions" over the Christmas period.