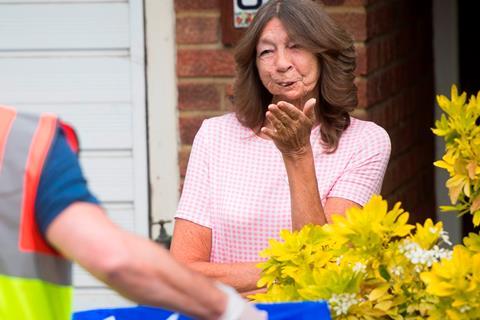 More than 20 UK charities have written to supermarket CEOs calling for delivery charges to be scrapped for people at most risk from Covid.
It follows a similar call from older people's charity Independent Age in December, for fees to be suspended for Christmas.
"As the country enters a third week of another national lockdown, many people who are most at risk from coronavirus are once again having to make an extremely difficult decision – to risk their health by going to a supermarket or to take on extra costs to have their food delivered," said Deborah Alsina, CEO of Independent Age.
"People living alone have told us they don't spend enough on food each week to reach the minimum spend for free delivery, and for those already on lower incomes, the extra delivery charge is a real burden. No one at risk should be financially penalised for following the official advice to stay home," she added.
The letter – which has been sent to the CEOs of Tesco, Asda, Sainsbury's, Morrisons, Iceland, Waitrose and Ocado – has been signed by the heads of Age UK, Alzheimer's Society, Carers UK, Dementia UK, Disability Rights UK, Macmillan, Scope and many others.
The letter points out the government has advised those at high risk to avoid supermarkets, leaving them with "little choice" but to shop online. The charities are particularly concerned about those at risk on lower incomes, for whom delivery charges or minimum spends "represent a disproportionately high cost" which puts them "in real financial trouble".
"When these priority slots were originally introduced, some of your supermarkets waived delivery charges and reduced minimum spends for priority slot holders. Delivery charges were reintroduced for these priority slots once the lockdown began to ease from August 2020 but have not been removed again even though we have re-entered lockdown," the letter states.
YouGov research commissioned by Independent Age late last year showed scrapping fees for priority customers has public support. A survey found three-quarters of people (77%) agree those who are unable to shop in supermarkets due to their age or underlying health conditions should not have to pay online delivery charges. Some 81% of people agree minimum spends on online orders should be scrapped for those who are unable to shop in supermarkets due to the health risk.
"We urge supermarkets to step up again and suspend the charges for people who are confined to their homes at this difficult time," Alsina said.