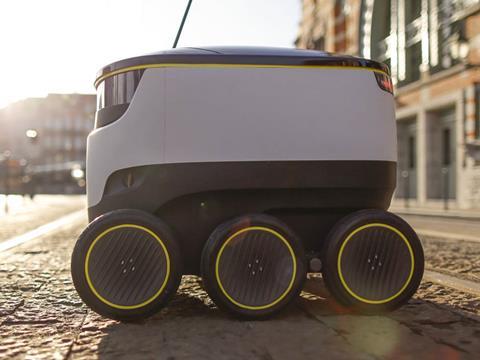 Super-fast delivery in as little as 10 minutes will become a widely available service in online grocery within seven years, according to a global survey of industry leaders.

Food packaging company Tetra Pak interviewed leading online grocery retailers from Europe, North America and China to gain a perspective on how the market is likely to change by 2025.

The company's report also takes in a consumer research study spanning the US, UK, China, South Korea and Saudi Arabia.

It concludes delivery is currently a barrier to online growth and that consumer appetite for convenience will drive waiting times down to minutes.

'Super-fast delivery is a game changer as it removes a major barrier to online grocery and opens the door to impulse and convenience shopping, rather than just stock-ups,' the report says.

'Looking ahead, our e-retailer survey suggests that super-fast delivery (within as little as 10 minutes) is expected to be a value-added service in Europe by 2025.'

Robot company Starship Technologies recently revealed it was already managing 15-minute fulfilment from the moment consumers order groceries from the Co-op to the moment they arrive.

The San Francisco-headquartered business promises one-hour delivery within a two-mile radius of a Milton Keynes Co-op branch using 4mph robots, but told The Grocer it was managing much shorter times depending on distance.
Amazon's UK country manager Doug Gurr said last month that the company was aiming for delivery times under 30 minutes with drones.

The annual Tetra Pak Index report also predicts 80% of brands will sell online directly to consumers by 2025.

'Meanwhile, brands are becoming e-retailers too, and many (if not most) major consumer packaged goods companies are expected to experiment with the direct-to-consumer model over the next few years,' the report says.

It says 'smart packaging' will help brands share information with consumers using digital codes that can be scanned with smartphones.

Alexandre Carvalho, Tetra Pak's director of global marketing services, said: "The rise of online grocery is a great opportunity for food and beverage brands, and packaging plays a key role in supporting their success."