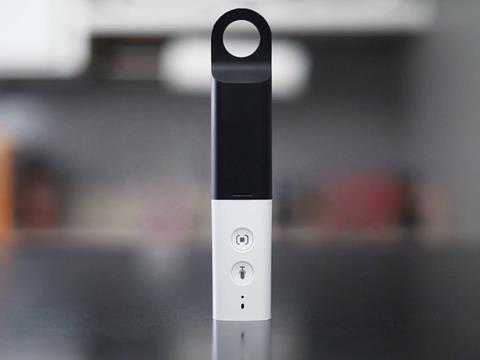 It's time to wave goodbye to the shopping list, Amazon proclaimed last week. With the launch of the Amazon Dash device in the UK, its Fresh customers need no longer bother with pesky scraps of paper. Run out of milk and want to order some more? Simply scan the barcode of the empty bottle and Dash will add it straight to your Amazon Fresh shopping list. Keen to try that chocolate bar you saw advertised on TV? Just say the name into the microphone of your Amazon Dash device and, if it's available, it will appear in your online basket next time you log in.
In Amazon's promotional video, it all looks incredibly simple - so simple, in fact, you can do it while playing a guitar or holding a baby. Convenience is clearly the big benefit Amazon is pushing for Dash, which is coming to the UK two years after launching in the US. Not to be confused with Dash buttons - pre-programmed switches that are only able to order one brand and which aren't available in the UK - the Dash 'wand' is able to order "millions" of products, says Amazon. "With Dash, at any given time, customers can scan to reorder groceries and household essentials as soon as they run out," adds Amazon Fresh VP Ajay Kavan.

By giving out the devices free to Fresh customers for one month, Amazon is bound to secure some early uptake. But, at a standard price of £34.99, the jury remains out on whether the innovation will gain traction in the UK long term.
How the Amazon Dash wand works
1. Wi-fi: The device uses wi-fi technology to send product choices straight to consumers' online shopping basket
2. Microphone: Say a product name into the microphone and voice recognition software will translate it into an order
3. Barcode scanner: Users can scan products to make them appear in their online shopping basket
4. Handle: Amazon says the device is designed to be hung on the fridge for maximum convenience
The experience in the US so far suggests Dash has niche rather than mainstream appeal. Dash has gained a loyal following among Amazon enthusiasts, says New York analyst Neil Saunders, MD of Conlumino. "Those who use it I think are very keen on it."

Indeed, customer reviews of the wand on the Amazon US site are overwhelmingly positive - one user describes it as "the epitome of having whatever you want whenever you want it". Saunders believes the wand could elicit an equally positive reaction from Amazon Fresh's UK customer base of tech-savvy Londoners in 128 postcodes.

But the low number of customer reviews - only 16 - points to another issue. Amazon doesn't release figures on uptake, but Saunders testifies to it having a somewhat limited appeal in the US, where online grocery is in its infancy. "It's seen as a bit of a frippery - not something that helps people all that much - because a lot of people still make lists and go to the grocery store," he says.

Even in the more advanced UK market, Saunders struggles to see flocks of customers paying £34.99 to avoid making shopping lists. "It provides a solution to a problem that doesn't really exist."

The Dash buttons, which are effectively free of charge (customers are refunded the $4.99 on the first use), have gained much greater traction in the US. "I think they're more popular because basically they cover things you would call staples like washing powder and fabric conditioner," says Saunders.

The wand could still yield benefits for Amazon, though. Barry Clogan of US-based online grocery consultancy MyWebGrocer says giving out free Dash devices could be a canny way to secure loyalty. "Amazon is best placed to lead and fulfil orders in this manner," he says. "That is where the stickiness to Amazon comes in."

The device also cements Amazon's position as a market leader in technology. Shore Capital's Clive Black believes it won't be long before other UK retailers respond by creating their own voice recognition and barcode scanning technology. "Initial uptake is likely to be a trickle, but in time we will look back on this as a stepping stone in the next phase of retailer-customer interaction."