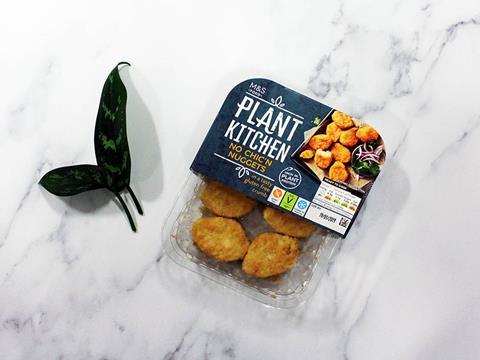 No Chic'n Nuggets
Rsp: £2.50
M&S says: Soya-based nuggets coated in a gluten-free crumb.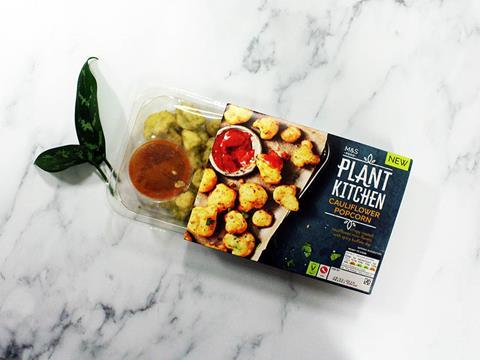 Cauliflower Popcorn
Rsp: £3
M&S says: Deep-fried battered cauliflower pieces with a pot of spicy chilli dip.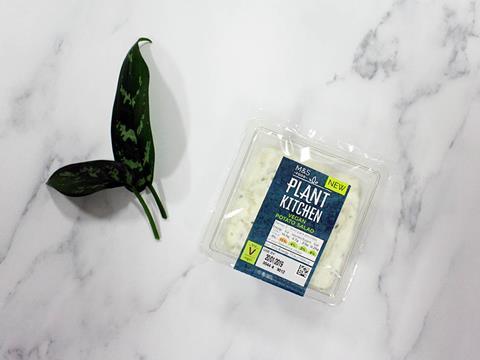 Vegan Potato Salad
Rsp: £1.50
M&S says: Potatoes in a vegan mayonnaise-style dressing with onions and herbs.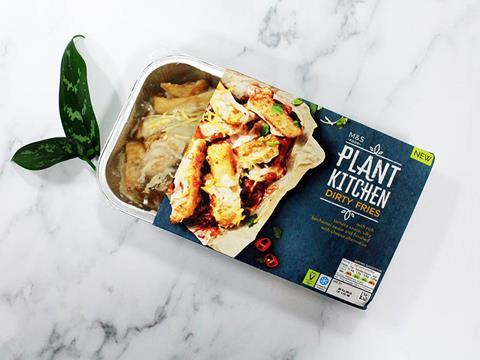 Dirty Fries
Rsp: £3
M&S says: Fried potato chips in tomato and vegan bechamel sauce, topped with a grated coconut oil-based alternative to cheese.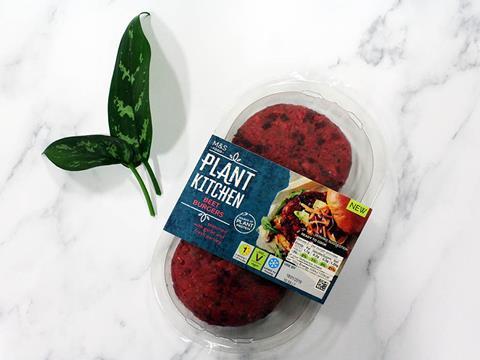 Beet Burger
Rsp: £2.50
M&S says: Two chickpea, beetroot, green lentil and onion seasoned vegan burgers with rice and carrots.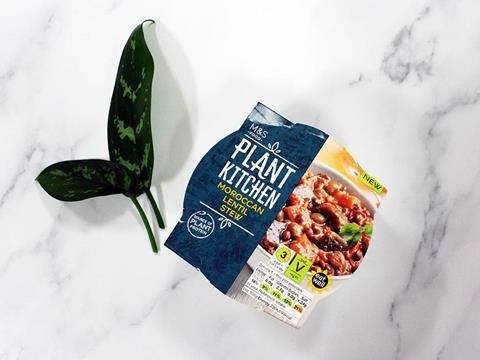 Moroccan Lentil Stew
Rsp: £3
M&S says: Spiced dates, aubergines, carrots and red peppers with lentils and chickpeas.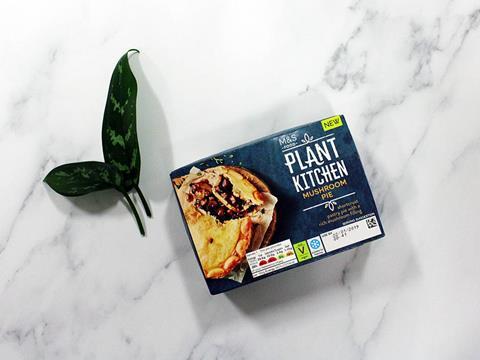 Mushroom Pie
Rsp: £2
M&S says: Shortcrust pastry pie with chestnut, white and portobello mushroom and gravy filling.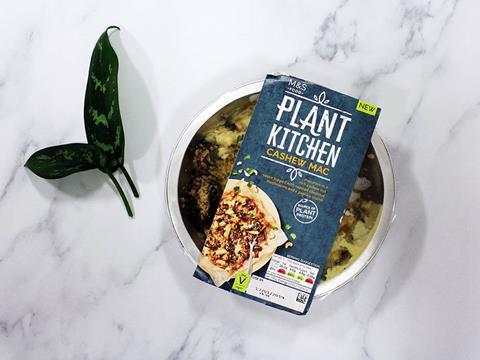 Cashew Mac
Rsp: £3
M&S says: Cooked pasta and roasted mushrooms in cashew nut and mustard sauce, topped with paprika crumb.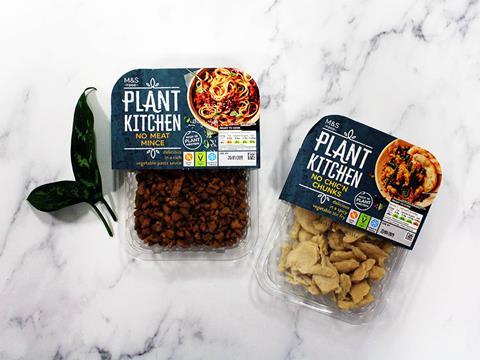 No Chic'n Chunks and No Meat Mince
Rsp: Both £2
M&S says: No Chic'n Chunks are gluten and meat-free chunks made with seasoned soya protein and No Meat Mince is gluten and meat-free mince made with seasoned soya protein.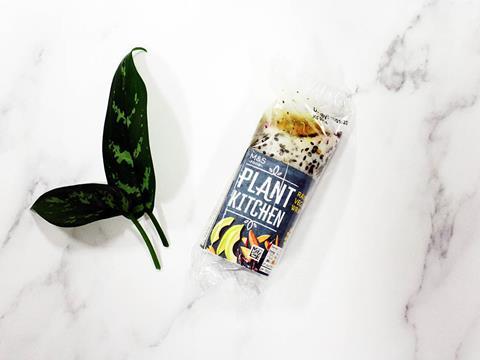 Rainbow Veg Sushi Wrap
Rsp: £2.30
M&S says: Avocado, sweet potato, pickled turmeric mooli and pickled red cabbage with a ginger, chilli and coriander dressing, wrapped in a cooked rice and dried seaweed roll with black sesame seeds.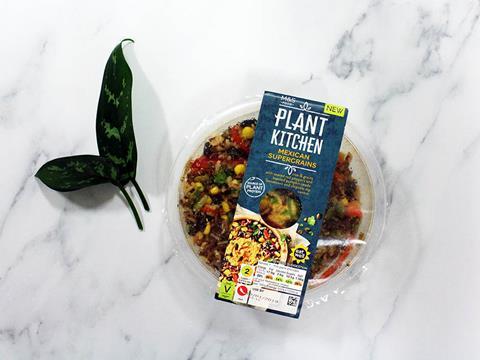 Mexican Supergrains
Rsp: £3
M&S says: Rice, black beans, quinoa and pumpkin seeds with a sweetcorn and chipotle chilli dip.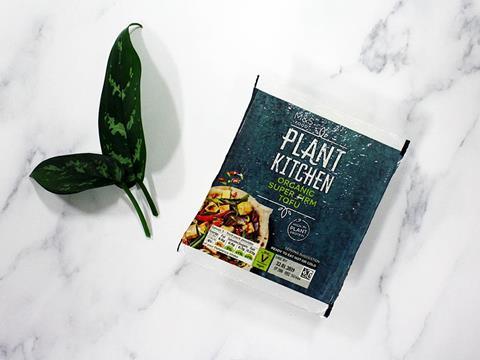 Organic Super FirmTofu
Rsp: £2.50
M&S says: Organic tofu.
Expert verdict: Jennifer Pardoe, Plant Based to Business
What do you think?
With the number of flexitarians growing annually it's been a long time coming for M&S to step up its plant-based game. M&S is known for innovative, quality food with their own twists, and not for hopping on the bandwagon of every urban food trend. Considering plant-based eating is more of a 'dietary shift' than 'minor trend', why did it take so long? Quality can't be rushed, it seems. The timing, however, of Plant Kitchen's launch couldn't have been more perfect: during the double whammy of January's consumer focus on healthier eating combined with the growing campaign of Veganuary. Also, the choice of celebrity endorsements on the shelf talkers has not gone unnoticed. Paddy McGuiness - who knew?
Is the range interesting?
I love that no one at M&S has deemed that eating plant-based must always be about rainbow colours, light-as-a-feather portions, or virtuous healthy eating 365 days a year.
There's clear division of uber-healthy versus fast food. There are beet burgers and falafels for the healthy weekdays, and 'fun, street food-style' eats you might have for a weekly treat, such as the Dirty Fries, Cauliflower Popcorn and Mac N' Cheese. There's a raft of more traditional staples and sides such as spaghetti bolognese, lasagne, mushroom pie, margherita pizza, potato salad and coleslaw – and there are three healthier reliable ready meals: Thai Green Curry, Roasted Aubergine, and Mushroom Stronganoff with Cauli Rice. There's something for everyone.
What does this tell us about the wider own-label strategy?
By investing in a fully-fledged plant-based development, accompanied by perfectly positioned naming and branding, M&S has reasserted its strengths in own-label and has justified the time lag behind competitors. The focus remains on quality, and being in control of guiding and delighting its customers with innovation. Notably, Plant Kitchen is also free from black plastic packaging, using more widely recyclable trays, as well as foil trays and cardboard boxes.
How does it stack up against other own-label vegan ranges?
Plant Kitchen feels more hearty, grown-up and accomplished. It's worth the wait. Competitors have either taken an uber-healthy route or they have rushed products to the shelves and left flavour as an afterthought.
Also, there is an oversupply of vegan shepherd's pies and curries under third party brands and M&S has now proven they are a force to be reckoned with.
I'd only improve upon the sandwich range, but cold vegetables between bread is a hard sell. I'm sure the product developers will be working on proper meat and cheese alternative sandwiches, given the main ingredient suppliers are soon to obtain their necessary BRC accreditations.
Finally, to the one major flaw in Plant Kitchen, which I do hope I don't need to wait another year for: what's for pudding?