M&S is doing Veganuary. The retailer is launching more than 100 new vegan products including food to go, snacks, drinks and ready meals in stores on 2 January.
The launch includes new additions to its popular Plant Kitchen range and a new lineup of healthy veg pots for consumers looking for a plant-based lunch. Here's our pick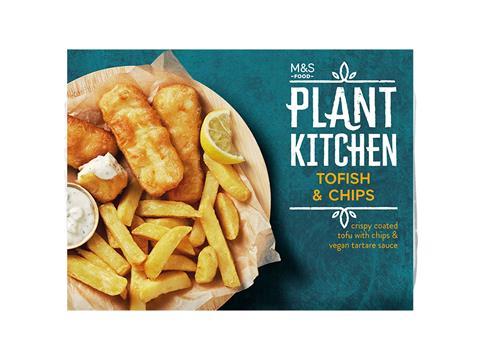 Plant Kitchen Tofish & Chips
Rsp: £3.50/350g
Capturing the growing demand for plant-based comfort food, these battered tofu goujons are served alongside chips and a vegan tartare sauce.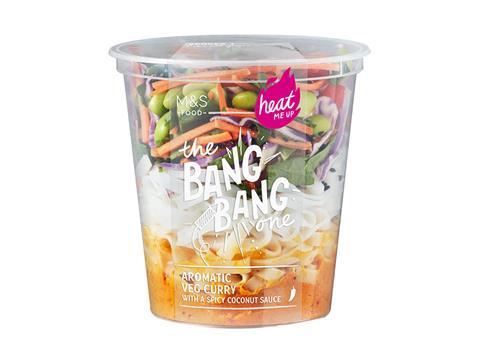 Healthy veg pots
Rsp: £3.50/350g
This new pot range is an "incredibly easy way of increasing your 5 a day," according to M&S, with some variants packing in three portions of fruit & veg. The pots are available in sharing and individual portions, and the range includes:
The Roasted One: garlic roasted veg and rice with a rosemary and tomato sauce
The Bang Bang One: an aromatic vegetable curry with a spicy coconut sauce
The Fiery One: a spiced vegetable and cauliflower couscous with a harissa sauce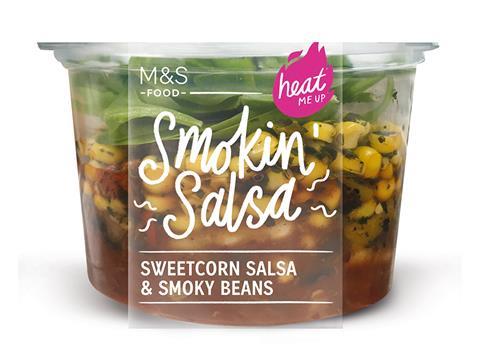 Healthy side pots
Rsp: £2.50/340-270g
Designed to accompany the pots above, these sides are also packed with veg and come in several variants including:
Smokin' Salsa: sweetcorn salsa and smoky beans
Ooh, Saucy: smoky red pepper sauce and roasted vegetables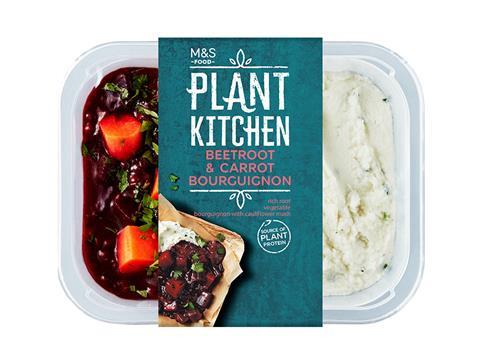 Plant Kitchen Beetroot & Carrot Bourguignon
Rsp: £3.50
This winter warmer combines a root vegetable bourguignon with cauliflower mash.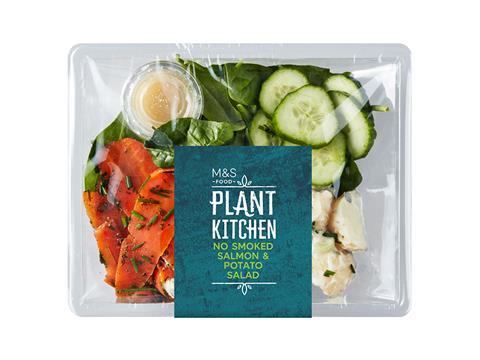 Plant Kitchen No Smoked Salmon & Potato Salad
Rsp: TBC
One of several new faux seafood options in the Plant Kitchen food-to-go range, this salad includes an alternative to smoked salmon and new potaoes with egg-free mayo.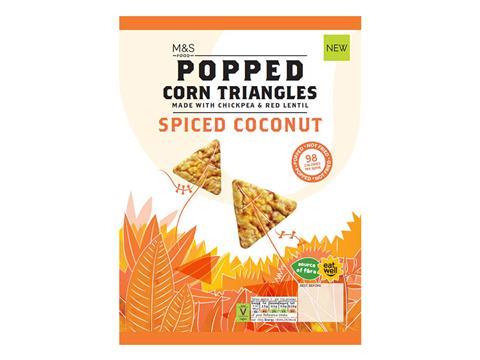 Popped Corn Triangles
Rsp: £1/70g
These healthy crisp alternatives are made with a variety of pulses including peas and lentils. Each bag contains under 100 calories, is low in saturated fat and is a source of protein or fibre. Variants include Spiced Coconut, made with chickpeas and red lentils, Wasabi, made with green peas and kale, and Sweet & Salty.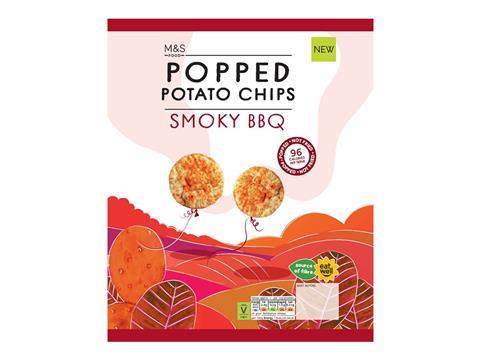 Popped Potato Chips
Rsp: £1/80g
Also coming in at under 100 calories per pack, these gluten-free popped chips are available in three flavours: Smoky BBQ, Hummus & Lime and Sea Salt & Apple Cider Vinegar.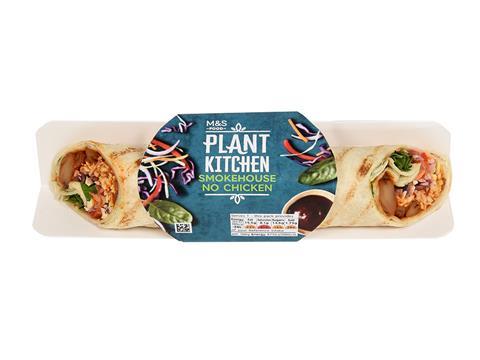 Plant Kitchen Smokehouse No Chicken wrap
£4/100g
This "sweet and smoky" chilled wrap combines the M&S No Chick'n chunks with dairy-free slaw, vegan cheese and a spicy tomato dressing.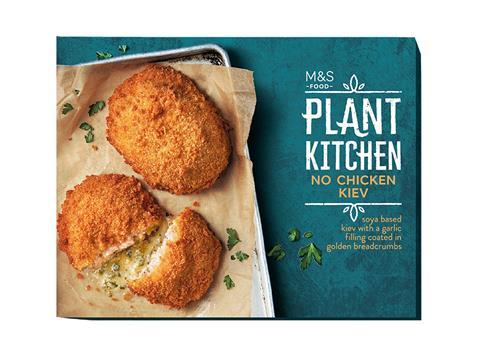 Plant Kitchen No Chicken Kiev
Rsp: £3.50/285g
A vegan take on a mid-week classic, these breaded soya patties are filled with "oozy and delicious, garlicky vegan butter", according to M&S.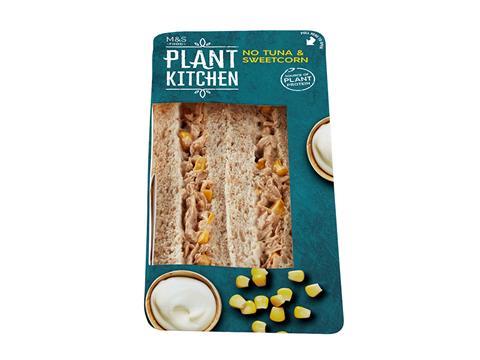 Plant Kitchen No Tuna & Sweetcorn Sandwich
Rsp: TBC
New to the food-to-go chiller, this sandwich combines a fish-free tuna alternative with sweetcorn and vegan mayo.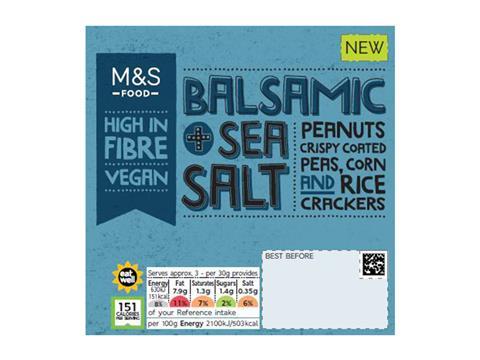 High fibre/high protein savoury snacks
Rsp: £1.50/110g
Providing a source of fibre or protein, these savoury snacking boxes combine nuts, peas and crackers and come in several variants:
Chilli & Lime: a blend of seasoned edamame, peanuts, cashews and almonds.
Smoky BBQ: seasoned corn, crispy peas, black edamame beans and spicy rice crackers.
Hot Pepper Kick: peppered cashews and corn, chilli chickpeas and peas and twisted seaweed sticks.
Balsamic & Sea Salt: seasoned peanuts, crispy coated peas and spicy rice crackers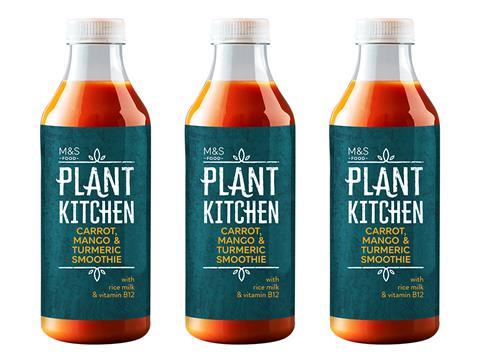 Plant Kitchen Smoothie
Rsp: TBC
Another addition to the food-to-go chiller, this Carrot, Mango & Turmeric Plant Kitchen smoothie is made with rice milk and vitamin B12.
Supermarket vegan ranges 2020
1

2

3

4

5

6

Currently reading

Range preview: Marks & Spencer Plant Kitchen Veganuary 2020

7

8

9

10