Waitrose is going big on Veganuary. The retailer's vegan offering for 2020 is double the size of last year's, with more than 30 new products hitting its shelves, chillers and freezers from this week. The range focuses on three main themes: convenient yet vibrant ready meals, alternatives to favourites such as pizza, pasta and garlic bread, and shortcut cooking ingredients to make life easier for vegan home cooks.
Here are a few standout items and a list of the full range.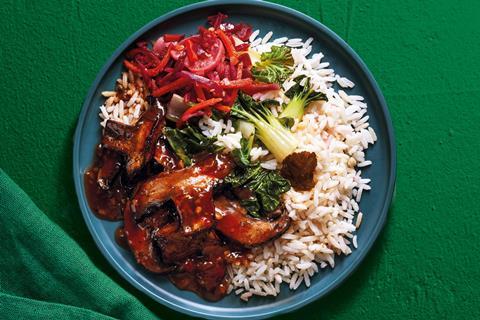 Asian Inspired BBQ Mushroom with Sticky Rice
Rsp: £3.75/350g
This Asian-inspired ready meal is a feast of vibrant veggies. Slices of roasted portobello mushroom in a spicy chilli & garlic sauce sit alongside wilted pak choi and punchy pickled vegetables, all on a bed of "fluffy and aromatic" sticky rice.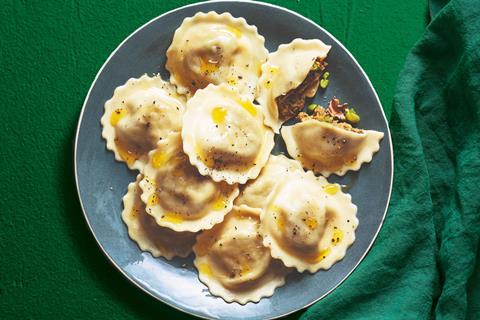 Pea & Jack Hock Fiorelli
Rsp: £3.19/250g
For this chilled, stuffed fiorelli, Waitrose has put a vegan twist on the classic pairing of pea and ham. Jackfruit 'hock' is combined with petit pois and flavoured with mint and smoked paprika. The retailer says the pasta is ideal served with its Tomato & Mascarfone sauce – another new addition to the range.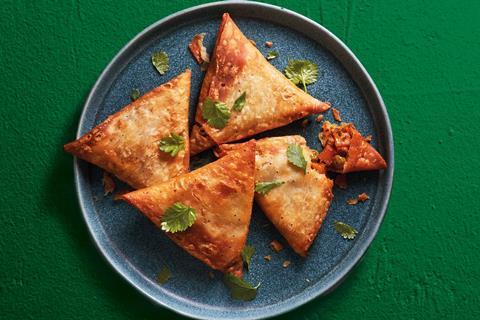 No Chicken Samosa
Rsp: £2.59/200g
For non-meat eaters, a vegetable samosa is no longer the only option. Waitrose's plant-based take on the classic Indian snack has a filling of spiced soya mince, potato and onion, encased in crisp pastry.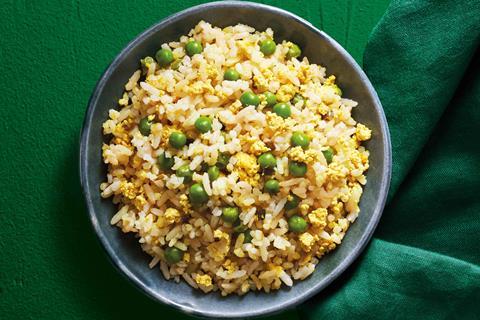 No Egg Fried Rice
Rsp: £1.99/350g
It may look convincing, but the 'egg' in this No Egg Fried Rice is actually made from tofu. The ingredient is blended with turmeric to give it a realistic yellow colour as well as a copycat texture. Designed to be served alongside homemade or takeaway curries and stir fries, the dish is completed with petit pois, spring onion, ginger and sesame oil.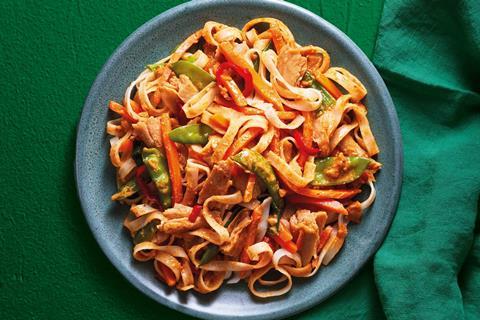 Vegan Satay with Soya Pieces and Rice Noodles
Rsp: £3.75/375g
Available in the chilled aisle, this stir fry-style meal features flat rice noodles and soya pieces, tossed in a silky peanut satay sauce. It is also bursting with veg such as crunchy mange tout, carrot batons and slices of red chilli.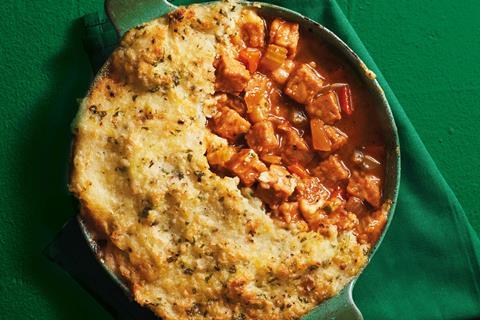 Vegan Marinated No Beef Chunks
Rsp: £2.99/180g
From stews and stir fries to casseroles and curries, a host of meaty dishes can be made vegan by substituting these No Beef Chunks. Made from seitan, mushrooms and jackfruit, the versatile chunks join Waitrose's other new easy-swap ingredients, vegan mince and veggie balls.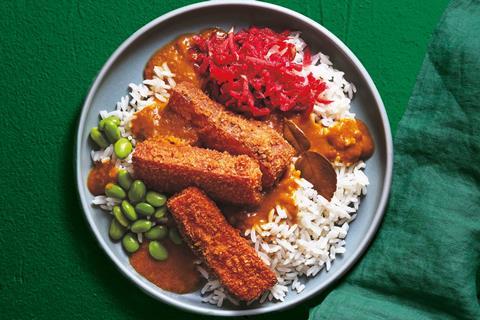 Vegan Sweet Potato Katsu Curry with Sticky Rice
Rsp: £3.75/365g
One of Britain's most popular Japanese food imports, katsu curry is most commonly served with chicken. However, this vegan meal features three breaded chunks of sweet potato as its centrepiece, along with sticky white rice and a helping of coconut curry sauce.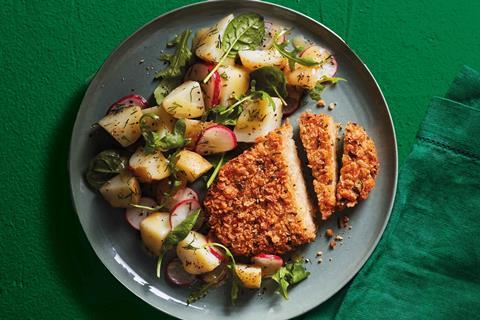 No Chicken Crispy Slices
Rsp: £3.00/200g
Waitrose's new range contains plenty of quick and simple meal solutions, such as Crunchy Vegetable Crispbakes and Mushroom & Chestnut Burgers. Another of these options are the No Chicken Crispy Slices – crunchy breaded fillets made from seitan and jackfruit.
The full range:
Vegan Sweet Potato Katsu Curry with Sticky Rice
Vegan Asian Inspired BBQ Mushrooms with Sticky Rice
Vegan Sweet Potato, Chickpea & Kale Curry with Grains & Rice
Vegan Satay with Soya Pieces and Rice Noodles
Vegan Soya Balls & Tagliatelle
Vegan Stonebaked & Hand Stretched Spicy Meatless Feast Pizza
Vegan Stonebaked & Hand Stretched Smoky Meatless Feast Pizza
Vegan Pea & Jack Hock Fiorelli
Vegan Mince
Vegan Veggie balls
Vegan Marinated No Beef Chunks
Vegan No Chicken Crispy Slices
Vegan Tomato & Mascarfone sauce
Vegan No Egg Fried Rice
Vegan Garlic Ciabatta
Vegan No Chicken Samosa
Frozen
2 Chunky Soya Burgers
Vegan Lasagne
Voussaka
Two-bean Chilli
Moroccan-inspired Vegetable Tart
Beetroot & Feta Layered Pie
Four-nut Roast Bake
Mushroom & Nut Wellington
Spiced Seitan Koftas
4 Crunchy Vegetable Crispbakes
2 Mushroom & Chestnut Burgers
2 Spicy Chilli Bean Burgers
2 Broad Bean & Bulgar Wheat Burgers
2 Crisp-crumbed Seitan Slices
Crisp-crumbed Fishless Goujons