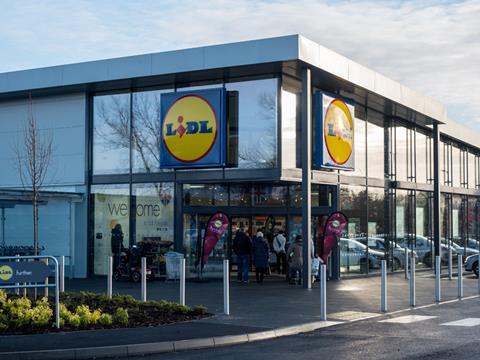 Lidl is raising entry-level hourly pay from £10.20 to £10.55 within the M25 and from £8.75 to £9.00 elsewhere in the UK.
The latest in a series of pay rises by the discounter marks an increase of 30% for London staff and 25% for those outside the capital since 2015.
The rise, to take effect from 1 March next year, is in line with the new voluntary living wage rates announced today by the Living Wage Foundation.
More than 17,000 Lidl staff will benefit across England, Scotland and Wales
It's an £8m investment by the supermarket and takes pay to almost 10% above the new national living wage announced in last week's Budget of £8.21 for workers aged 25 and over from next April.
Lidl also said today that it had added 2,500 employees to its workforce since 2017 and was set to open more than 50 new stores next year and five new regional distribution centres by 2025.
"Lidl is an incredibly exciting business to be a part of right now, with sales continuing to climb and new stores opening every week," said Christian Härtnagel, Lidl UK CEO. "Our employees are amongst the most talented and hard working in the industry, and we are committed to supporting them both inside and outside of the workplace.
"With our newest warehouse opening this week in Avonmouth, and a further five set to open in the coming years, along with our pipeline of new stores, we look forward to welcoming more people into the Lidl team."
From 1 November, Amazon increased its basic pay to £10.50 in the London area and £9.50 elsewhere in the UK, up from £8.20 and £8 respectively.