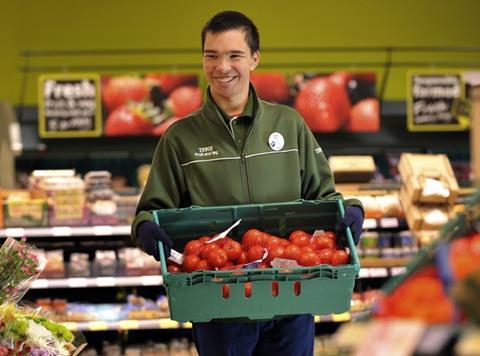 Tesco has today informed shop staff of major changes to pay, including an increased hourly basic rate but significant cutbacks to overtime.

As part of its plan set out a year ago to keep staff costs flat, UK CEO Matt Davies told staff the new pay deal, negotiated with the union Usdaw, would be "simpler and fairer".

The deal includes a 3.1% hourly rate pay increase for main B/C grade Tesco shop workers, which kicks in from 3 July 2016.

However, many staff are angry at the changes, which will see basic overtime pay scrapped, double time reduced to time-and-a-half for Sundays and bank holidays and the period for which staff received night-time working premium pay reduced to a window between 12 midnight and 6am.
Tesco claims 85% of its staff will be better off under the deal, and has promised to compensate any who lose out with a lump sum transition payment worth 18 months of the difference in pay.
Its move leaves staff earning more than the government's new National Living Wage (NLW), with the hourly rate of pay for all established colleagues at Tesco to rise to £7.62 per hour, compared to the £7.20 per hour NLW. In their first nine months staff will get £7.24 an hour as from April.
However, the new deal means Tesco trails several other supermarkets on basic pay. In October Aldi became the highest-paying major supermarket after announcing a new minimum wage of £8.40 per hour for staff.
The pay rise beat the £8.20 per hour paid by rivals Morrisons and £8.25 paid by Lidl, the latter in line with the threshold recommended by the Living Wage Foundation.
"This is part of a long-term reward plan that's simple fair, competitive and sustainable for our business"

Matt Davies, Tesco UK CEO

In a message to staff seen by The Grocer, Davies said: "This is part of a long-term reward plan that's simple, fair, competitive and sustainable for our business.
"There'll be a simpler and fairer pay structure, including one approach to premiums for everyone."

The new deal, which also includes staff at Tesco fulfilment centres, runs until July 2017.

Davies said Tesco was investing an extra £137m in pay and benefits this year and reinvesting £38m from its existing payroll.

As part of the changes, all hourly paid Tesco colleagues who work on Sundays and bank holidays will be paid at time-and-a-half, instead of double pay.

All hourly paid colleagues working overtime apart from Sundays and bank holidays will be paid at "single time".

Tesco said it would pay a night premium of £2.21 per hour, which will be reviewed each year "in line with the market".

The payment covers a period of 12 midnight until 6am but to recognise staff who worked outside those hours on night shifts Tesco said they could qualify for extra payments of up to £2.21.

The deal was welcomed by Pauline Foulkes, national officer for Usdaw.
Usdaw and Tesco have worked really hard together to agree some significant improvements for colleagues in retail

Pauline Folkes, national officer for Usdaw
She said: "Over the last year Usdaw and Tesco have had detailed and constructive discussions as part of the pay and benefits review.

In a year where Tesco announced a flat investment in payroll, both Usdaw and Tesco have worked really hard together to agree some significant improvements for colleagues in retail.

"While the outcome of this review is good news for many, we recognise that colleagues will be impacted in different ways. However, the improvements represent a significant amount of new investment in pay and benefits from Tesco.

"The changes ensure fair, simple and consistent pay for everyone and the total reward package remains the best amongst the major supermarkets," she said.

A Tesco spokesman said: "Tesco continues to be an industry leader in total pay and benefits.

"All hourly-paid store colleagues will receive an increase in base rate of pay, and over 85% of all our store colleagues will see an improved total package. Where there are changes to premium rates, colleagues will be compensated with earnings protection over a considerable period."