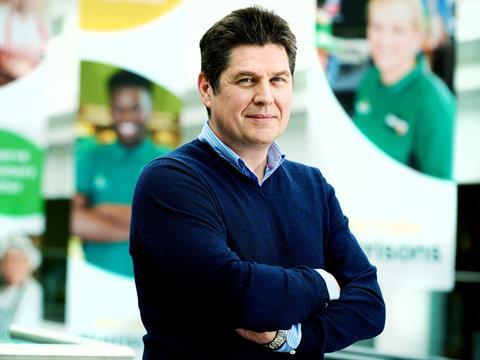 There is a difference in the English language between simple and easy," says Morrisons group commercial director Darren Blackhurst. "We want to buy simply but to get to that point it's not easy."

It sums up the first 20 months in Blackhurst's career at Morrisons. Earlier this month, Morrisons delivered its first year of like-for-like growth and underlying pre-tax profit since 2011/12. But it hasn't been plain sailing for Blackhurst, a former Tesco and Asda commercial director, since he returned to grocery after a five-year hiatus that included spells at Matalan and B&Q.

While Blackhurst started to address the alarming decline in trading two major incidents threatened to throw a spanner in the works. In November 2015, Morrisons was named and shamed by crusading celebrity chef Hugh Fearnley-Whittingstall over its stringent fruit and veg specs, which resulted in up to 40% of the parsnip crop from one of its growers going to waste.

Soon after it was investigated by Grocery Code Adjudicator Christine Tacon for demanding lump sum payments of up to £2m from suppliers, in breach of GSCOP, dating back to June 2015 - the same month Blackhurst started.

With Tacon holding the power to fine retailers up to 1% of their turnover, Morrisons could have been fined £163m (based on its last reported sales figures). In the end, Morrisons did not face a major fine, but as well as apologising it had to repay suppliers who had paid out money for no clear benefit. Several members of the buying team also left the business after Morrisons took disciplinary action.

"I was a week into the job when all that happened, so I can't really comment on what went on before," Blackhurst says. "What I can tell you is that [GSCOP] is something that is front and centre of our thinking and has been over the last 18 months."
"Being more competitive had to become our number-one focus, whether that be our prices, our products or the quality of our own brand"
Indeed both incidents have helped shape Morrisons' determination to become easier to trade with, most notably through the reduction in commercial income streams, from 37 to three. Blackhurst recalls the brief he was given by CEO David Potts, who had joined the business just a few months earlier. "David told us to listen and listen hard," he says. "When you take the time to listen the answers stare you in the face."

From listening to customers, suppliers and staff, Morrisons came up with six priorities to shape its turnaround: to be more competitive; serve customers better; find local solutions; develop popular and useful services; simplify and speed up; and make the core supermarkets strong again.

Blackhurst's commercial team will primarily focus on the first three. "Being more competitive had to become our number-one focus, whether that is our prices, our products or the quality of our own brand," he says. "That was where the work started and still continues. We've made fantastic progress but I would never say it is all done."
Snapshot
Age: 50
Born: Ashton-under-Lyne, Manchester
Marital status: I am recently married to Samantha and have two kids, Adam and Katy from my first marriage
Best career decision: Living and working overseas. First in France in 1994 and then in Thailand in 2002.
Business idol: It's got to be my dad - Maurice Blackhurst
Best piece of advice ever received: Keep your feet firmly on the ground
Business mantra: Possunt quia posse videntur, or, in English, they can because they think they can
Hobbies: I love to play guitar and am a season ticket holder at Manchester City
How do you relax? Spending time with the family
Favourite meal: A Sunday roast
Favourite The Best line: I think the whole range is great. It is unfair to pick just one
What book are you reading at the moment: Bury my heart at Wounded Knee by Dee Brown
Reducing complexity
Alongside working towards these priorities has been a drive to reduce complexity. This meant making the buyers the "big decision makers once again to control their ranging, their own brand development and their pricing". Before, he says, there had been a number of other teams placed around the buying function. "Where there are too many voices you can lose clarity and start to make things too complex."

Removing other teams from the buying process also shone a spotlight on some talented people who had been hidden away. It also highlighted areas where Morrisons needed to build up its capabilities. At the end of last year, Morrisons held a three-day programme where all buyers were put through 'my job' training.

"In this we clearly defined their roles in the business, what they do for our customers and how we engage with our suppliers," he explains. "That has given the team a lot more clarity and more confidence to really work in the right way."

At a Morrisons supplier conference next week, Blackhurst will also be sharing the findings of a major listening survey it carried out within its supply base, including "warts and all" feedback. As well as the previous complexity of the commercial income streams, he admits many suppliers complained of a lack of constructive engagement, and called for Morrisons to build much longer trading relationships.

"If a business is going down the wrong track, you can end up being a bit short-term," he explains. "We are now looking much longer term."

This new strategy has involved Morrisons developing three types of trading agreement: for category partners it is rolling out three-year plans; with core suppliers it will work on strong yearly plans; and the third tier of suppliers will be purely transactional.

Blackhurst insists there are fundamental differences between this and the 'M Partners' scheme developed by the previous management. "Partnership for me is about two businesses aligning their agendas to do great things for customers. If you ask someone to pay for partnership you have defeated the object from the word go."

He also points to two further changes Morrisons has made to become easier to trade with. Earlier this year it dropped charges for suppliers covering issues from customer complaints and legal compliance checks to changes to packaging artwork, and this week it will pledge to pay all small suppliers within 14 days.
Under pressure
Suppliers say they are encouraged by such moves but will give it time to see if Morrisons can walk the walk. One supplier suggested it was easier said than done, especially if buyers further down the chain of command feel under pressure to deliver results. He also suggested it was easier to make these pledges when sales and profits were heading in the right direction.

"When I joined, sales were going in the wrong direction," Blackhurst responds. "The tone has to start at the top. But it comes back to focusing on what is right for customers and that gives me a good indication that we are on the right track. We are taking every effort to ensure there are no further breaches of the code. And if we buy and sell as simply as I know we can then we can work in the right way with our supply base."
"We are taking every effort to ensure there are no further breaches of the code and I am confident we can work in the right way with our supply base"
M Partners is not the only M that Blackhurst has singled out for the chop. On the own label side, M Kitchen, M Bistro and M Signature have either been or are in the process of being phased out, replaced by 'Morrisons' for its standard own label and 'Morrisons The Best' for its premium tier. "It is the founder's name and the name should have been on the products so we've put that name back and we are very proud of that fact."

Morrisons is examining the specs of every line in terms of quality but "if there is one move that stands out for it would be the move back from Signature to The Best. It really shows how we've just got back to basics. There is something that resonates with the word best and the brand The Best that Signature had lost. We ended up in a world of Signature where some weird and wonderful recipes were coming out which, frankly, did not resonate with the Morrisons customer." And if bringing back The Best was "a move in the right direction, there is lots still to do with it. "I can see so much more opportunity."

Blackhurst also feels there are far more progressive practices in place to prevent the retailer finding itself depicted as it was in Hugh's War on Waste.

Since the BBC programme went out, the retailer has introduced a 'Wonky Veg' range and Blackhurst says Morrisons now sells 500 tonnes of 'wonky' potatoes parsnips, onions, carrots and other veg each week. He also insists Morrisons can now buy whole crops of vegetables and find different uses for all parts of the crop. And it is better to introduce new specs for wonky veg rather than simply lower the existing specs for all veg, he says. "All large retailers have specs for their fruit & veg and in our case they change frequently depending on weather conditions. Wonky veg allows us to give customers a further choice and push the relaxation of specifications further."

He adds Morrisons is looking into potentially signing up to the NFU's Fruit & Veg Pledge, which aims to provide greater stability and certainty for UK growers. "We are British farming's single biggest customer and will continue to provide as much support as we can for British farming".

Morrisons has also just launched a search to find a further 200 local British suppliers this year. This is not, he says, about trying to get UK farmers to grow exotic fruit & veg at difficult times of the year, but to make more of what is produced in the UK.Blackhurst believes this could prove a key opportunity for suppliers now the government has chosen 29 March to trigger Article 50 and quit the European Union.
The Brexit challenge
Brexit, of course, presents a whole host of other challenges to retailers - not least the continued weakness of the pound following the EU referendum last summer. And it's led suppliers to engage with retailers to secure price increases as a result, most notably with Marmitegate last October, when Tesco clashed with Unilever after it tried to push through blanket price increases. Interestingly

Morrisons increased the price of a number of Unilever products (including Marmite) after that spat, and since then a host of other suppliers have claimed prices need to go up to offset rising costs.

Blackhurst is adamant that the looming inflationary environment will not derail Morrison's efforts to become more competitive on price.

"I don't want to comment on the deal we did with Unilever," he says. "But we monitor pricing in great depth day in and day out," he says. "Specific prices and products will ebb and flow throughout the year but we know our relative competitiveness and that remains our focus."

He also dismisses the suggestion that Morrisons is more vulnerable to inflationary pressures than Tesco with its scale or Asda, which can rely on the backing of its parent company Walmart.

"Regardless of the economic backdrop, the playing field remains level and I think we would be focusing on these priorities whatever the economy was doing," he argues. "We were the only retailer to make major price cuts at the beginning of the year, we dropped 800 prices as part of Price Crunch, so it is resonating with customers that whatever the backdrop we will be working hard to keep the cost of living down."

Blackhurst is also careful not to get too carried away by the recovery so far and points out that Morrisons is still in the fix phase. However, there is a clear confidence that a stripped-down executive team under Potts has the retailer heading in the right direction, even with competition remaining tough. When Potts joined Morrisons there were about 150 people with 'director' in their job title - it is now half that.

"I always say competition makes you stronger, but at Morrisons we believe the future is in our own hands so we will stay focused on what we need to do and let our competitors get on with what they need to do."

He certainly makes it all sound very simple, but one thing is for sure - it isn't easy out there.