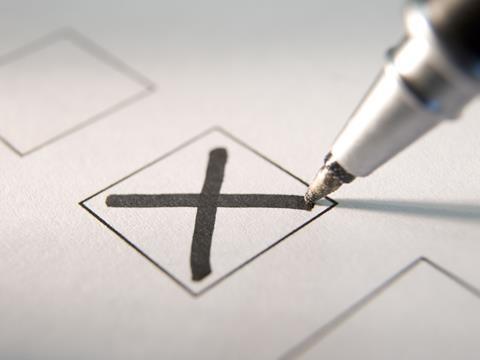 Finally it's here. The big day. The one we've all been waiting for.
Time to think long and hard, pick from the best and brightest in the land and put their name forward for an opportunity like no other.
Hold on a sec. You know I'm not talking about the general election right? God, no. Picking a leader from that bunch of hapless u-turners/figure fudgers/racists (delete according to political preferences) is like trying to choose whether you'd prefer a sharp hook to the jaw or a swift kick to the… well, you get the picture.
No, I'm talking about something far more uplifting. The fact that entries are now open to our Top New Talent awards 2017.
Business kudos
Celebrating the dynamic, the daring and the downright impressive new talent in food and drink, this is a unique opportunity to throw a spotlight on up and coming leaders in our brilliant, booming industry. The small group of winners will join a sparkling alumni made up of supermarket bosses, multimillion-pound business owners and internationally renowned entrepreneurs. They'll not only see their name in lights but carry the business kudos that comes with it for the rest of their career.
We'll spell out their successes for all to see in The Grocer, give them a year's free membership, and ask them to join us for an exclusive drinks reception alongside a host of industry VIPs and - perhaps most importantly - each other. Past winners tell us they still stay in touch now to help one another get ahead.
And we aren't only talking about entrepreneurs or supermarket execs. We want frontrunners in wholesale, convenience and foodservice. We want stars from PR, sales, marketing, logistics, farming. This industry employs a huge and diverse array of talent in hundreds and perhaps thousands of different roles. Our aim is to capture and celebrate upcoming talent wherever it resides in the supply chain.
So if you work in fmcg, and you're looking to tick a box today that'll leave you feeling jubilant rather than jaded, head to Top New Talent 2017 is open for entries and fill in our quick entry form at the top of the page to nominate your Top New Talent of 2017. Or take matters into your own hands and nominate yourself (but provide a reference). The only rule is you need to be 35 or under at the time of entry.
What are you waiting for? You might have until 22 September to decide but, as we all know, dragging these decisions out for more than a couple of weeks is just painful for everyone involved, so why wait? Enter TNT, then go vote for the next government. At least one of them might make a difference.