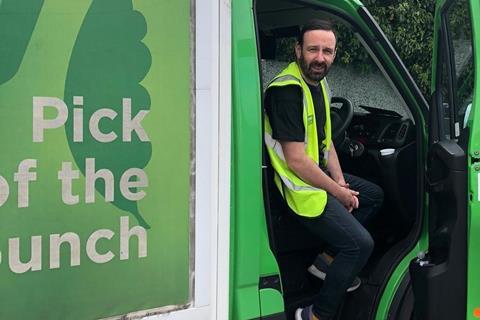 Game of Thrones actor Michael Condron has taken a job as an Asda delivery driver during the coronavirus pandemic.
Condron, who played Lord Steward of the Night's Watch Bowen Marsh in the series, decided to apply at his local Belfast Shore Road branch after several acting jobs got put on hold.
"A friend of mine said Asda were looking for people to work there so I got in touch," said Condron. "I came down, got a job and I absolutely love it."
The actor, who has also appeared in The Tudors and Soft Border Patrol, makes "17 to 18 calls a day" and also helps out on click & collect.
He said it was "nice to have a rapport" with regular customers he meets on his rounds.
"The job means I can continue to have that interaction with people like I get in a theatre. It's kept me mentally in a good place and it continues to do so.
"Some of the elderly people I see haven't been able to get out of their homes due to lockdown and they just want to talk," Condron added.
Store manager Kate Oakes said: "It's really fantastic having Michael work for us. He's swapped the black leather of the Night's Watch to the Asda green of a delivery driver."