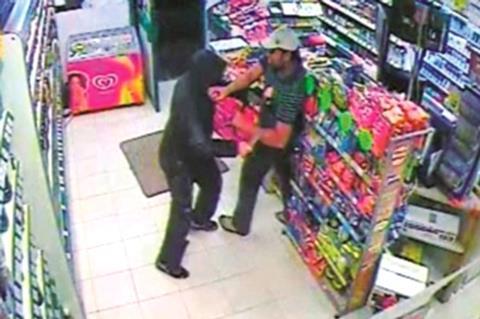 Plans to crack down on abuse and violence against shopworkers, which has surged during the coronavirus crisis, have been set out by the government amid growing pressure from the industry. However, industry bodies are disappointed no changes to the law have been proposed.
The steps are outlined in the Home Office's 22-page response to a call for evidence on the problem, which closed in June 2019 and received almost 3,500 responses from individuals, businesses, charities and trade bodies, across the retail industry.
They include working with the National Retail Crime Steering Group (NRCSG) on a best practice guide to support staff in reporting these crimes, strengthening and making full use of existing laws, and improving data sharing between businesses and the police.
In addition, crime and policing minister Kit Malthouse will write to Police and Crime Commissioners (PCCs) and chief constables underscoring the importance of working closely with local businesses to tackle this issue, as well as emphasising the theft of goods valued up to £200 from a shop should be prosecuted as a criminal offence.
The British Retail Consortium (BRC) welcomed the publication of the report but expressed disappointment the government did not to seek to introduce a specific offence for attacking shop workers.
"Recommendations to look at the sentencing council guidelines and sentencing legislation are welcome, along with the indication that offences against shopworkers can already be treated as aggravated, even though they seldom are," said Tom Ironside, BRC director of business regulation and co-chairman of the NRCSG.
"Moreover, this is no substitute for the message that a change in the law would send."
The Association of Convenience Stores (ACS) also expressed disappointment in the length of time it has taken the government to come up with its proposals.
CEO James Lowman said: "We are disappointed that it has taken the Home Office over a year to acknowledge the overwhelming body of evidence showing the extent of violence and abuse against shopworkers. Warm words and working groups are not enough; we need tougher penalties for attacks on shopworkers and more police resource to stamp out violence."
He added the approach to PCCs and chief constable to encourage better handling of incidents affecting shopworkers was a step in the right direction, but must be followed to ensure proper enforcement.
"This must not become a blame game with national and local authorities passing responsibility to one another," Lowman said. "This is a critical issue affecting the lives of hundreds of thousands of people, and ministers must build on the Home Secretary's leadership today and take ownership of this problem."
The Federation of Independent Retailers (NFRN) welcomed the government's commitment to act on members' concerns about the £200 "low value shop theft" threshold.
NFRN national president Stuart Reddish said he was "very pleased" the federation's campaign to highlight the weaknesses of having a £200 threshold for shop theft has been recognised by the government.
"As the leading representative of the independent retail sector, the NFRN will be continuing to work closely with the government to ensure local police and PCCs take on board the minister's advice and will seek to protect local retailers who are working hard to serve their local communities."
A common theme throughout the responses to the government call for evidence was a lack of support shop workers received from their employer.
Individuals reported being told to "get on with the job" after reporting instances of verbal abuse, and there was a culture in which managers tended to side with customers rather than employees. Some respondents also felt managers tended to focus on preserving the reputation of the store and did not always challenge unacceptable behaviour by customers.
This lack of support from managers also contributed to a lack of reporting by employees. Other factors as to why incidents had not been reported included a lack of time and a lack of police response.
Of the respondents who had reported incidents of violence or abuse, more than half were not happy with the response they received. As a result, shop workers would see offenders, including repeat offenders, return to stores where they had previously been involved in incidents against staff.
Returning offenders led some respondents working in the sector to conclude the rights of the customer was of greater concern for managers and supervisors than staff welfare.
Some respondents also reported a fear they would not be taken seriously by their managers or supervisors or, in some extreme cases, would themselves be subject of punitive action by their employer as reporting incidents would cause reputational damage to the organisation.
The call for evidence also outlined the emotional impact of violence and abuse on shopworkers, particularly on their health and wellbeing, with staff needing to take time away from work, seek counselling or feeling afraid and anxious to come to work.
New actions from the Home Office outlined in the publication also include:
Looking at the issue of the effectiveness of s176 of the Anti-Social Behaviour, Crime and Policing 2014 Act as part of the post-legislative scrutiny of the act
Intention to publish a white paper ahead of sentencing legislation, which will include proposals for tougher community sentences
Introduction of legislation for community penalties offering an appropriate level of punishment while tackling the underlying drivers of offending and addressing issues such as mental health or drug or alcohol addiction
Home Secretary Priti Patel said: "As the daughter of shopkeepers, I know what a vital role they play within our communities and just how tirelessly they have worked during the coronavirus pandemic.
"I will not tolerate violence and abuse against any shopworker and it's right that those who commit these crimes must be caught and punished."
Crime and policing minister Kit Malthouse added shopworkers were the "beating hearts" of communities and violence or abuse against them was "utterly unacceptable".
He said the government was recruiting 20,000 new police officers over the next three years to tackle violent crime of all types.
Laws announced in the Queen's Speech contain proposals for tougher community penalties and tackling the underlying drivers of offending, such as mental health or drug and alcohol addiction.
The Sentencing Council is reviewing its guidelines for courts on assault and published interim guidance in April 2020 clarifying it should be treated as an aggravating factor when assault involves threats around Covid-19 – such as spitting or coughing.
The publication of the Home Office call for evidence follows Co-op food boss Jo Whitfield last week slamming the government over its inaction to tackle crime against shopworkers.
The retailer recorded a 140% increase in in-store crime during the coronavirus lockdown, with 1,350 attacks in June alone, including incidents of staff being spat and coughed at.
In April, a survey by union Usdaw revealed abuse and violence towards shopworkers had doubled since the outbreak of coronavirus in the UK, while earlier this month a report conducted exclusively by Shepper for The Grocer showed a quarter of supermarket workers said they had experienced abuse since the pandemic began.
The Co-op has been building awareness and support for Labour MP Alex Norris' Assault on Shop Workers Bill, which has had its second reading in parliament postponed. It calls for greater protection for shopworkers in carrying out public duties.
Retail crime costs the economy a total of £2.2bn, with £1bn lost to crime and a further £1.2bn to crime prevention, according to the BRC.