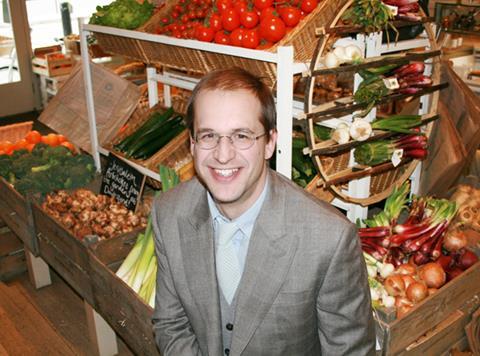 Jamie Mitchell, CEO of Daylesford Organic, is leaving next month after four years at the helm.
The former Innocent MD, who joined the business in January 2010, will leave at the end of March. "After four exciting and rewarding years I have decided the time is right to start looking for my next adventure," he said.
"I am pleased to be leaving the businesses in positions of great strength, with experienced leadership teams and exciting and compelling growth plans," Mitchell added.
Daylesford will be led by FD Nick Fletcher, supported by operations director Mark Bright and supply chain director Ben Tuppen.
Daylesford was set up by Lady Carole Bamford – whose husband Sir Anthony Bamford owns the £2.7bn JCB business – in 2003 as an organic farm, shop and restaurant; it has been loss making ever since. In its first seven years of trading, Daylesford losses totalled £27m and in the year Mitchell arrived, the company lost £11.3m on sales of £9.9m for 2009.
Mitchell told The Grocer at the time he planned for the business to break even by the end of 2011, and his strategy emphasised cutting costs, stripping out underperforming stores and refocussing the product range.
According to the latest financial results available on Companies House, the company reported a loss of £2.9m on sales of £11.8m for the year ending 31 December 2012. But Mitchell added that for 2013, losses had been reduced to just under £2m on sales up to £13.5m.
"The good news is we had our first profitable months last year," Mitchell said, adding that the company had seen £3m sales through Ocado alone. "Originally I said we should break even in two years – and rose-tinted spectacles may have been worn by me at the time.
"The business fundamentals are all in the right place. It's because what we're trying to do [be a retailer, a food manufacturer and a restaurant] is very challenging. I'll admit to being slightly too optimistic but it's now just a matter of growing through it." Mitchell added that the break-even point would not be this year but would be "within two years".
"Our existing stores are growing well – 18% like-for-like growth. That's a strong sign that what we're doing is working."