Everyone knows first impressions count, and it would seem new Morrisons CEO Rami Baitiéh is going all out to ensure he makes a good one.
Morrisons' new boss has taken charge of the supermarket business, having spent last week shadowing outgoing CEO David Potts. In a video message sent to all 110,000 staff today, the new man was not only glowing in his praise of his predecessor and the job he has done during his nine years at the helm, but cannily he also evoked the spirit of the late Sir Ken Morrison.
It was Morrison's work ethic that Baitiéh latched on to, saying that "one of the first things I noticed when I arrived at head office was the statue of Sir Ken Morrison at the entrance. It's a beautiful statue. But what really struck me was that he is rolling up his sleeves – ready to work. And that is exactly how I feel – I am looking forward to rolling up my sleeves… to getting to work… and learning from all of you about this great company."
Baitiéh is right, of course, there is plenty of hard work ahead. So, as he settles in at Morrisons' Gain Lane HQ in Bradford, we ask who is he? What are the key issues in his in-tray? And how might he go about breathing new life into Morrisons?
Who is Rami Baitiéh and what is his mantra?
Born in Lebanon before moving to France, Baitiéh began his career with Carrefour Group in 1995, working in stores and serving in various roles in merchandise, IT and supply chain, in France, Romania and Poland. In February 2015, he was appointed CEO of Carrefour Taiwan, before being made CEO of Carrefour Argentina in January 2018, and then Spain the following year.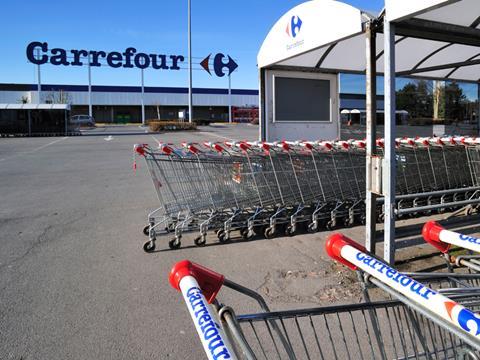 In July 2020 he took the helm of Carrefour France, leading 150,000 employees across 5,800 stores. In keeping with the theme of rolling up his sleeves and getting on with things rather than talking about it, Baitiéh has a relatively low profile for such an experienced operator and someone who has reached such dizzying heights.
In his LinkedIn profile he describes himself as an expert in "fast turnarounds in cultural, organisational and digital change". He also pulled back the curtain on his strategic thinking at Carrefour in recent profile piece with consultancy firm Oliver Wyman. In that he championed the Carrefour matrix called the 555, which involves five commitments in three areas: trust, service and experience. He also talks about how he identified 16 categories of customers or personas, and insisted that Carrefour needs to be adaptable.
The good news for him is that this situation isn't comparable to a football manager taking over a team in trouble, so we are not in much-needed speedy turnaround territory. Morrisons isn't fighting to stave off relegation, rather its US private equity owners Clayton Dubilier & Rice will be looking for him to get Morrisons climbing back up the table in terms of performance.
What can Morrisons achieve on price?
Veteran supermarket street fighter he may be, but outgoing Morrisons boss David Potts somewhat gave the game away in January when he admitted the supermarket could not compete with its rivals on price in the thick of a cost of living crisis.
Potts admitted the discounter's vertical integration meant it had found it harder to keep prices down when faced with a wave of CPI requests, because it was effectively "negotiating with itself".
Add to that the huge debt burden piled on the retailer from its US ownership, and it is hard to reach any other conclusion than new boss Baitiéh will be fighting a losing battle if he tries to compete solely on price.
That being said, Morrisons insists its pricing is now far sharper than when Potts made that statement, with no less than eight rounds of price reductions unleashed this year alone as it tries to narrow the gap.
"Morrisons has become less competitive with the discounters and that is why they are haemorrhaging market share"
Analysis of the Grocer 33 shows Morrisons has succeeded in becoming more competitive. By plotting where Morrisons ranked compared with Asda, Sainsbury's Tesco and Waitrose, each week in the pricing survey, the retailer came in with an average ranking of 3.15 for the six months from 1 November 2022. Its average ranking for the last six months is 2.38, suggesting it is mixing it more on price.
The German discounters, however, remain in a league of their own when it comes to price. But Baitiéh is no stranger to taking on the discounters. He has been up against them everywhere he has worked so far. In France, Lidl and Aldi, where they are in decline, in Spain, Lidl and Dia, in Argentina, the Chinese hard discounters and in In Taiwan: Costco and PX Mart.
But when it comes to price competitiveness and focus on grocery, the UK market is different to anything the Carrefour boss will have experienced and industry experts remain sceptical about Morrisons' ability to compete on price.
"Morrisons has become less competitive with the discounters and that is why they are haemorrhaging market share," explains a senior director at a Morrisons supplier. "But its very difficult to see how it can compete. Its already had eight goes this year and is still struggling to close the gap."
Retail and property consultant Jonathan De Mello also cautions that too much price activity would damage the bottom line. "There is only so much they can do when it comes to price given the significant debt and high interest rates Morrisons faces, which hampers any runway they might have had to compete. Deeper discounting would impact gross margin too much."
Can Baitiéh make Morrisons the people's grocer once again?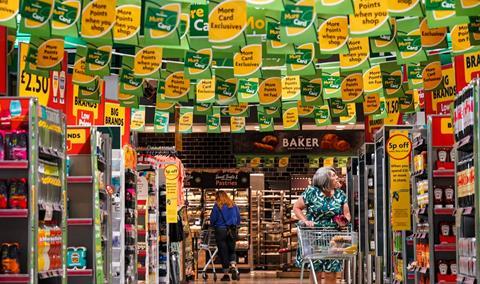 As well as price, Morrisons has desperately been trying to claw back the gap in loyalty created by the likes of Tesco with its Clubcard Prices and Aldi Price Match juggernaut. In April, The Grocer revealed Morrisons was relaunching its loyalty card, which had gone off course following the misguided decision in 2021 to replace its More Card with the My Morrisons: Make Good Things Happen app.
The move was rowing completely against the tide as Tesco, Sainsbury's and the Co-op all made major moves to put loyalty cards and exclusive prices for members at the heart of their shopping journeys as never before.
Morrisons claims to have had a laser focus on loyalty since the More Card relaunched, citing a million active customers added since then, and a swipe rate continuing to increase.
It also claims to have seen More points starting to drive sales growth across specific categories, Market Street volume growth of in-store pizzas up over 30% year on year and doughnuts up 13%.
CD&R's Terry Leahy pinpointed loyalty as one of the key attributes that Baitiéh will bring and there are strong hints from his track record with Carrefour that suggest how he may approach the job at hand. His '555 matrix' is essentially all about the customer. On price, it promises to be "good, clear and accurate", if not always the best. On service, store staff would always be available to serve customers when wanted. Whereas on the shopping experience the message rammed home to staff was that "the customer is the most important person of our day".
In isolation, these and the other commitments it entailed may seem blindingly obvious, but it is just that sort of back-to-basics approach, albeit perhaps with a bit of French flair, that Morrisons needs, along with the execution needed to put it into practice.
Explaining the 555 plan in the Oliver Wyman profile, Baitiéh says: "Customers are saying, 'I'm changing, and I want you to change with me'. We need to understand every category of customer. Our response is a two-tiered strategy. First: problem solving. The customer wants to buy a product, but it's not available. They want to buy fruits and vegetables, but the quality is not sufficient. Or they want to pay, but there is a long line. The 555 matrix translates these demands into commitments by Carrefour.
"The products must be available. The fruit and vegetables are the best price and quality. Customers don't have to wait to check out. Then the whole company is organised to act on these priorities. They are written in stone and unimpeachable.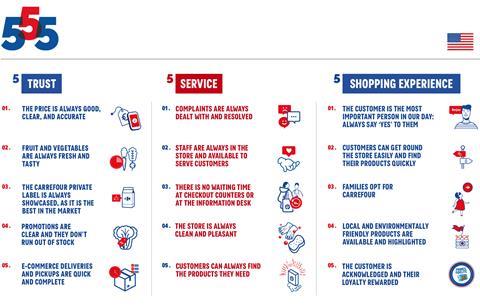 Jonathan De Mello expects to see a Morrisons version of this mantra soon. "I 100% think this is the sort of thing Baitiéh will try to bring to Morrisons, albeit the Morrisons customer is not as diverse as Carrefour.
"It is principally mid-affluent consumers in the north and Midlands. Extending the proposition too far into other consumer groups risks diluting the current positioning and creating even more confusion for customers.
"I expect instead of the 555 we will see three key KPIs: Price (taking on the discounters), Service (winning back customers from both the discounters and supermarket rivals and Quality (making Morrisons known for quality once more)."
However, retail analyst Andrew Busby believes it will be risky for Baitiéh to try repeat the Carrefour recipe at Morrisons. "He'll likely flounder if he attempts to overlay a Carrefour template on to an established UK grocer," he argues.
"It will be a challenge to implement some of the 555, especially around the 15 personas and service as these introduce cost to the operation, so he'll be under pressure to justify those kind of changes."
Trying to find More Reasons to Shop at Morrisons, to quote the strapline it reintroduced in May as part of its loyalty relaunch, will not be easy, even for a man renowned for turnaround wherever he has operated.
"It will be a challenge to implement some of the 555"

Andrew Busby
Neil Godber, executive strategy director at creative agency and consultancy Wunderman Thompson, believes nothing short of a substantial brand rebirth is needed at the supermarket for its to get back on the right track.
"More Reasons to Shop at Morrisons is in danger of feeling small and tactical when Morrisons needs something more substantial," he says.
"In contrast to the competition focusing on broad EDLP claims or shaking up the market with new discounted ways to shop, Morrisons has always felt like the people's grocer.
"It's closer to the food itself, producing, cooking, slicing and serving along Market Street. That's what it needs to get back to."
Nick Woods, strategy & creative director at communications agency Sunny Side Up, adds: "Marketing will 100% be a key plank of Baitiéh's success, or otherwise, but a far more imaginative and energetic mix of loyalty, and a return of the brand's commitment to British farming and original comms is required. Its key differentiator, the relationship with UK farming, has been almost totally lost."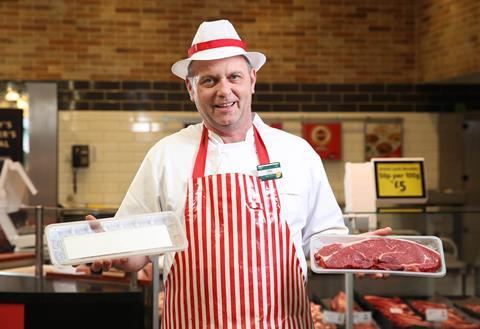 Can Baitiéh breathe fresh life into Market Street?
If Baitiéh really is keen looking to take inspiration from Ken Morrison, then perhaps he needs to start with the founder's favourite proposition – Market Street. Morrisons' famous serve-over counters were a clear point of difference throughout its history, but it has been widely felt that in the past few years Market Street has been watered down as staff hours were reduced. It obviously hasn't gone as far as Tesco and Sainsbury's, which have both stripped out counters altogether, but if it is set to keep them, improvements are needed.
"Everyone else has been closing counters but under David Potts Morrisons has remained committed," says De Mello.
"Market Street was and remains a good idea, and I think further investment in it could benefit Morrisons and differentiate it from the discounters."
Shore Capital analyst Clive Black, a veteran Morrisons watcher, says Baitiéh needs to bring the "ruthless clarity for execution" that characterised Dave Lewis's turnaround at Tesco in order to play to the supermarket's strengths.
"It's not just about pricing. Too many hours were taken out of the business and the last year has all been about them trying to claw things back.
"Morrisons needs a USP and it has two, in the form of Market Street and vertical integration," adds Black. "When times are good, they have been a key strength but when times have been bad, they have become a weakness."
Morrisons insiders insist putting staff hours back into the business to improve service has been Potts' mantra for almost a year, along with sharper prices, and claim its availability stats are steadily improving.
Arguably, Morrisons' service has got worse, according to Grocer 33 data over the past year.
The supermarket's average rank for the first six months of the year was 2.88. The average rank for the second half of the year was 3.22.
Can Morrisons improve its lacklustre supplier strategy?
Just days after Potts announced he was standing down as Morrisons boss, suppliers gathered at an IGD briefing to hear the latest strategy.
But sources suggest it was far from setting the world alight with the ambition of its plans.
Under the banner "working together for growth" the presentation promised to bring about "reduced range" while increasing choice, achieving growth across all channels and allowing suppliers to maximise brand growth through its loyalty programme.
Morrisons pledged to ramp up its More Card Exclusives, which it said would "grow sales efficiently" by allowing brands to invest in its loyalty programme.
"In short, there was no new news and its presentation could be from any retailer at any point in the past 20 years," claims Ged Futter, founder of The Retail Mind. "It's all very uninspiring and doesn't smack of a retailer with a strategy to get back in the top four."
"Morrisons have become less competitive and that is why they are haemorrhaging market share," adds one supplier source, who was similarly underwhelmed.
"As they can't make money with sales, they have turned their focus to back margin.
"All suppliers are being asked for lots of money and they want it guaranteed. However, back margin is a short-term solution and no replacement for sales.
"Tesco got away with it for years, but they had 30% market share and strong sales. Morrisons only have 8% share and are in decline. There are only so many times they can shake the tree."
Can Morrisons up its game in the online stakes?
Online is an area flagged by Leahy as a key strength of the incoming boss.
Carrefour is a tech leader among supermarkets globally, in 2021 setting out its strategy to transform from a "traditional retailer with e-commerce capabilities," as group chairman and CEO Alexandre Bompard explained, "into a digital retail company". The goal – which Baitiéh will have doubtless played a role in setting – is to triple the group's e-commerce gross merchandise value by 2026.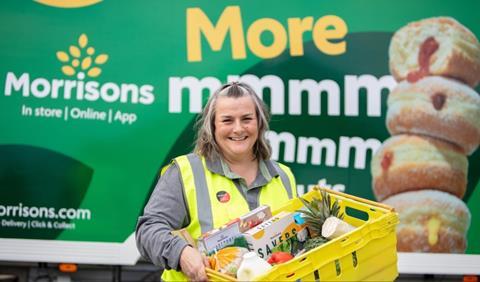 On the face of it, Morrisons has been no laggard on the online front either. Its relationship with Amazon stretches as far back as 2016, when Morrisons groceries became available for Prime members to shop on the Amazon website. By 2020, the supermarket had its own store front on Amazon.co.uk, where customers can do "their full Morrisons food shop".
The move was pioneering, and since copied by Co-op, Iceland and according to reports, Waitrose soon too.
But the tie-up is a "double-edged sword" suggests Martin Heubel, founder of Amazon strategy consultancy Consulterce.
"On the one hand, Morrisons was an early adopter of Amazon's push to expand its Fresh range with UK retailers. On the other, this move has increased Morrisons' dependence on Amazon"
Amazon's more recent partnering with rivals "is a problem" Heubel says. "The tech giant follows a proven formula by securing better prices for products due to Morrisons' large volumes from existing supplier relationships while also reducing its dependence through onboarding other retail partners. This puts Morrisons in a difficult position, as it weakens its leverage when trying to improve its own margins in negotiations with Amazon Fresh.
"This makes Amazon the ultimate winner in this game," Heubel says.
So how should Baitiéh approach the arrangement?
"He needs to weigh up whether the partnership with Amazon Fresh, where Morrisons acts mainly as a distributor, is really in line with his strategic vision for the retailer," Heubel says. "Amazon can offer reach, but that reach isn't as attractive any more following the end of the pandemic, and it certainly isn't highly profitable."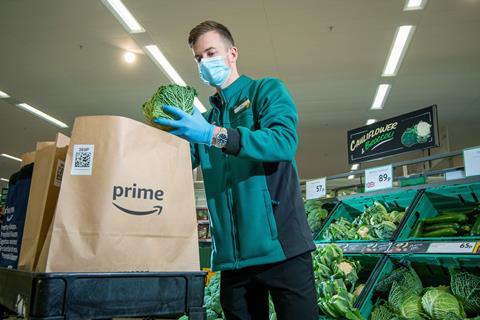 Morrisons has a similar arrangement with Deliveroo – and was the first retailer to partner on Deliveroo's rapid grocery service Hop, again as a supplier. It's also struck a supplier partnership with rapid grocer Gopuff. Carrefour launched its own 10-minute delivery service – Carrefour Sprint – in 2021, with groceries delivered by Uber Eats couriers, but fulfilled by startup Cajoo. But Carrefour soon became a Cajoo shareholder and insisted on being its exclusive French retail partner. By comparison, Amazon-backed Deliveroo Hop has since struck deals with Waitrose and Asda, and is looking to partner further.
"Baitiéh would be well advised to look for partnerships that can support the delivery of online grocery orders to shoppers rather than increase its reliance on Amazon," Heubel says. And it's not just Amazon: Morrisons CFCs run on Ocado's tech, who also order delivery – another rival on which Morrisons is dependent.
Baitiéh could also look to inject the appetite for innovation of Carrefour's into Morrisons. Carrefour has launched several checkout-free stores in France and overseas, and while Morrisons had been trialling the tech at its Bradford HQ, the pilot has gone no further. Baitiéh could decide to catch up to the like of Tesco, Sainsbury';s, Amazon Fresh and Aldi on this front. Carrefour France is also experimenting with AI – launching Hopla, a chatbot based on ChatGPT that was integrated into the Carrefour.fr website in summer, with which customers converse to help build their baskets. And the French arm of the business has also adopted a marketplace model since 2020, adding thousands of third-party products to its online range. With Tesco primed to launch its own version at the start of next year, Baitiéh could fast-track a similar effort.
Is wholesale and convenience a help or hindrance?
It is probably a moot question given the £190m Morrisons shelled out in May 2022 to prevent the McColl's chain of convenience stores slipping out of its hands and into those of Asda owners the Issa brothers. However, it's not entirely clear how successful the big supermarkets' dalliances have been. Tesco's swoop for Booker has been a major success and the wholesale arm continues to power ahead, but equally Sainsbury's has thrived since it abandoned its wholesale ambitions in July 2021.
As things stand, Morrisons still has a lot of work to do in terms of fully integrating the McColl's operations, though there have been encouraging noises coming out of the retailer on that front recently. In June, Morrisons said it expected its convenience operation to be profitable by the end of the year. At the time, it had almost 650 Morrisons Daily stores, roughly 400 of which are former McColl's stores. It also said it would have almost 1,000 Morrisons Daily stores trading by the end of the year. Potts described this as a "significantly enhanced position" in the convenience sector and said Morrisons had identified convenience as a "strong area of focus and growth".
Whether the new boss have the same c-store focus as the old one remains to be seen. Those staff working in the former McColl's stores will certainly be hoping he does. As will a growing roster of independent retailers who are now trading under the Morrisons Daily fascia or joined the fledgling Together with Morrisons project.
Those retailers can at least take heart from the fact that during his time at Carrefour France, Baitiéh oversaw a business that encompassed hypermarkets, supermarkets, discount stores and crucially nearly 150 cash & carry outlets and over 4,300 convenience stores under the Carrefour City, Carrefour Contact, Carrefour Express and Bio c' Bon formats.
The key question will be how big a priority will this channel be for Baitiéh, when there are arguably more pressing issues on his to do list. His first 100 days will certainly be worth paying close attention to in order to find out.