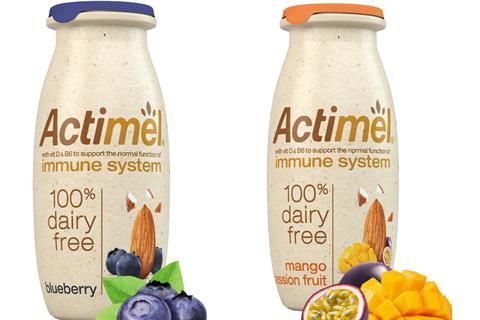 Danone has accelerated its push into plant-based with the UK launch of the first dairy-free variant for its Actimel yoghurt drink.
Actimel 100% Dairy Free uses a blend of roasted almonds and oats along with two different strains of live ­cultures and vitamins D and B6.
It went on sale this week in Asda in Mango & Passionfruit and ­Blueberry flavours (rsp: £2.99/pack of six 100g shots).
The range will also go on sale in Waitrose on 3 August, followed Tesco, Sainsbury's and other major grocery retailers later this year.
Danone said the NPD was low in sugar, used no preservatives, colours or artificial flavours and was suitable for vegans.
"We're excited to bring our decades of experience in live cultures and immune support to the plant-based world," said Sarah Dossett, marketing director for Danone Essential Dairy & Plant-Based, UK & Ireland.
"Many people are looking for options that fit their flexitarian diet, and we wanted to offer them the Actimel they know and love in both dairy and dairy-free options."
The launch will be supported by digital activations on social media from mid-September, and with strong retail support both in-store and online.
It follows the long-awaited, yet low-key UK unveiling of a plant-based Activia variant by Danone in February. The oat-based yoghurt alternative is available in mango & flaxseed and prune & flaxseed variants (rsp: £2.25/350g).
After an initial run in Sainsbury's the product is now also available in Amazon Fresh and Tesco.