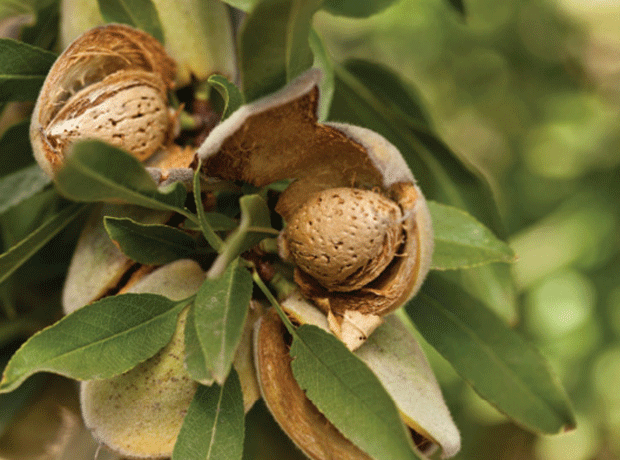 Californian almonds will benefit from a new public campaign next week to capitalise on the explosion in plant-based eating, but concerns remain regarding the crop's sustainability.
The new campaign, branded 'Do You Almond?', will focus on the health benefits of almonds by featuring humorous scenarios "from a contortionist granny to a life drawing maverick." It was developed by the Almond Board of California, which represents growers producing almost 80% of the global supply.
Previous campaigns have propelled almonds to be perceived as the healthiest nut in the UK, aided by endorsements from celebrities including Meghan Markle and television presenter Laura Whitmore.
However, the environmental reputation of the almond sector is much less favourable. It was once labelled a "horticultural vampire" by US magazine New Republic for its perceived role in California's most recent droughts.
The claim was dismissed as an oversimplification of California's vast agricultural complexities, but it was reflective of the environmental issues that continue to haunt Californian almonds.
"Almonds became the scapegoat for the lack of rain and snow in California for that period," says Richard Waycott, CEO of the Almond Board of California, highlighting almond growers' efforts to reduce water usage by almost a third in the past 20 years.
But the image problem extends beyond the crop's water use.
California's almond industry relies heavily on bees brought into the area for pollination, yet the hives face a fundamental threat. Despite almond growers reducing their winter pesticide use by two thirds over the past 10 years, a survey last year reported 50 billion bees died in the winter of 2018/19, the highest on record.
Beekeepers attribute the high mortality rate to pesticide exposure and reducing biodiversity as a result of industrial farming processes in the US.
The conclusion is in part supported by the Almond Board of California's research, which concluded last year chemical combinations used on almonds were destroying beehives.
"It just doesn't make any sense to use an insecticide when you have 80% of the nation's honeybees sitting there exposed to it," Reed Johnson, a bee expert and author of the study, told Ohio State News.
Waycott insists growers are not overlooking the issue. "Bees are a vital resource for our growers … it's not in anybody's interest to not treat the bees the best way they can."
But with US beekeepers now a lynchpin of modern agriculture, travelling the country from one pollination site to the next, the need for a solution is becoming ever more pressing. Unless it is found soon, the fallout from the US bee devastation will plague far more than almonds.