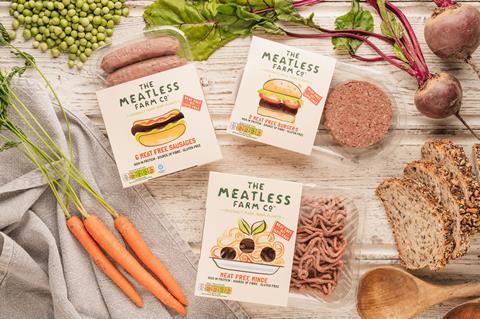 The Meatless Farm is ditching soy from the recipes of its burgers and sausages.
The plant-based brand has created a new, completely pea-based mix, which it claims has an "even meatier taste" than the prior recipe, which was a combination of soy, pea and brown rice.
The brand's founder Morten Toft Bech told The Grocer: "Over the past couple of years with more funding and success we've been able to hire our own team of food scientists who are constantly improving our recipes."
The change would make the burgers in particular "better in texture and colour", he said. The recipe change will be flagged on new packs which roll out this week.
"We don't have anything against soy – although there are arguments that soybean farming is more intensive and drains the topsoil of nutrients," he added.
The brand's plant-based mince will retain its recipe, however. "Soya provides the best texture for mince," said Toft Bech. "But of course to make it easier for ourselves I would prefer all products used the same plant-based protein mix."
Meatless Farm has also launched its first-ever TV ad campaign, which debuted yesterday (4 May). "I don't want to sound like one of the goulash barons of the First World War but we have done extremely well during this lockdown and we want to show that," said Toft Bech.
"This is our way of saying the UK is ours. It's our homeland. We started here and we will dominate here."
Meatless Farm last week made its first move into DTC, launching a tie-up with frozen pizza firm One Planet Pizza. Shoppers can order a number of frozen Meatless 'packages' from its website featuring combinations of different SKUs.
The scheme was planned before the coronavirus crisis, said Toft Bech, but its launch had been "accelerated" in response to the current climate and demand.
Sales of the brand surged in the run-up to lockdown, said the brand, growing 210% over the 12 weeks to March 2020 [Nielsen].