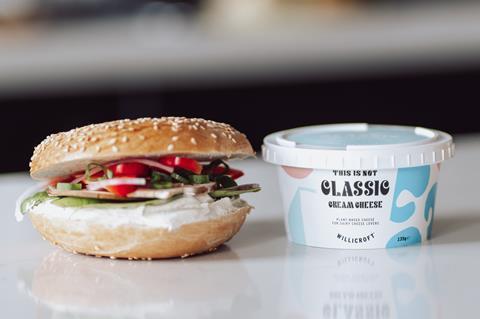 Plant-based cheese alternative brand Willicroft has secured its first listing in a major multiple, with a trio of its products set to go on sale in Waitrose tomorrow (7 October).
Willicroft's This is not Cheese Fondue (rsp: £7.50/280g) and its Parmesan alternative This is not Grated Cheese (rsp: £3.50 for 75g) are both made from cashew nuts, while its This is not Cream Cheese product (rsp: £3.50/135g) is based on Dutch-grown white beans.
Named after the Devon-based beef and dairy farm once run by founder Brad Vanstone's grandfather, the Willicroft range will be listed in about 300 Waitrose stores and be supported by a promotion for the fondue this month and further deals for the fondue and grated cheese SKUs in January.
The brand was established in 2018 by Brighton-born entrepreneur Vanstone, who moved to the Netherlands four years ago. After switching to a plant-based diet, Vanstone was unable to find a cheese alternative that satisfied his cheese cravings, so he started experimenting with his own recipes in his kitchen and eventually opened a vegan cheese store in Amsterdam.
Since that point, the Willicroft brand has been sold by Vanstone online and secured listings on platforms such as The Vegan Kind, in addition to Whole Foods and Planet Organic.
The range was "rich in flavour and low in impact", he claimed, and combined "age-old techniques such as fermentation with a more planet-friendly ingredient base to create a plant-based cheese that will never leave you sacrificing on taste".
The Waitrose listing was also particularly poignant for Vanstone as his grandfather had previously sold Aberdeen Angus beef to the retailer.
"It's pretty exciting that Willicroft in its reimagined form is supplying the same store with plant-based cheese," he said.