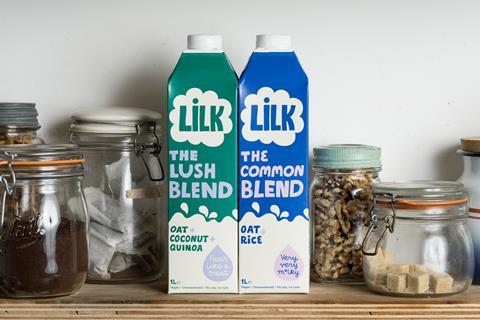 A brother and sister duo with no direct experience in fmcg have launched a plant-based drinks startup that aims to break down shopper barriers to entering the dairy alternatives market.
Lilk, which will be listed in Ocado from September as well as in cafés across London in the coming months, was said by its founders to have taken the next logical step for diary alternatives by using a blend of ingredients rather than one base.
It currently comes in two variants. The Common Blend (rsp: £1.80/one litre) is a combination of oat and rice bases that promises a smooth, neutral and dairy-like profile ideal for cups of tea and use as an ingredient. Meanwhile, The Lush Blend (rsp: £1.95/one litre), is a blend of oat, coconut and quinoa that was said to offer similar credentials to its sister drink but with a more indulgent flavour and texture.
Both were created in the London home of Lilk's sibling founders Bastien and Elisa Eymery during the Covid-19 lockdown, prompted by lactose intolerance and dissatisfaction with existing market offerings.
"Between us, we've tried every plant milk under the sun," said Bastien Eymery, who has a marketing and tech background. "No matter what we tried, we couldn't find one that tasted good in both tea and coffee and when drunk on its own.
"We began taking the ingredients of our favourite plant milks and experimenting with blending. It was amazing to discover how ingredients that are not usually put together worked so well to give us the elements that we craved."
Elisa Eymery – who has worked in fashion and beauty – added that the blends allowed Lilk to cater to different palates and occasions.
Thanks to financial help from family and friends, the duo was able to hire food scientists and producers, undertake consumer trials and have the products manufactured by Framptons.
This partnership with the Somerset supplier has also allowed them to package Lilk in a one-litre Combidome bottle. Fully recyclable and made from FSC-certified paperboard, the bottles were said to minimise waste compared with other formats thanks to production efficiencies and added functionality for consumers.
The Eymerys said the ingredients had been sourced primarily from the UK and Europe, except for the more exotic ingredients, like coconut, which had been bought in from Indonesia. The existing variants are also set to be joined by organic NPD in the coming months.