The fake meat sector has seen a slew of brand casualties in recent months, but own label is bucking the trend with buoyant sales
It's a terrible time for altmeat players. Plant & Bean was the latest casualty this week, with the manufacturer of meat-free products for big brands like Quorn and Wicked Kitchen announcing it had fallen into administration due to soaring costs and operational disruption caused by ingredients shortages.
The news follows hot on the heels of last week's revelation in The Grocer that Meatless Farm was on the verge of appointing administrators unless £10m could be found to shore up its finances, off the back of a combined £50m loss over the last three years.
But of course there have been countless other knockbacks, with Nestlé pulling its plant-based Garden Gourmet brand in March, amid plummeting valuations for previously rockstar brands like Beyond Meat, while many have been forced to trim ranges – or have them trimmed for them by retailers who are discovering that the meat-free boom is turning into a busted flush.
"Beyond Meat and Impossible Foods wanted to upend the world's $1tn meat industry," went a Bloomberg headline in January. "But plant-based meat is turning out to be a flop."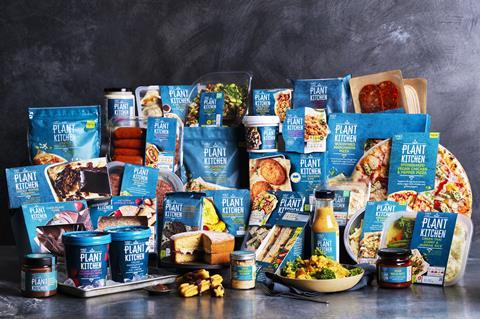 Yet while many brands are struggling, one facet of plant-based meat is not.
Kantar data shows own-label meat-free sales are holding up well, having grown by 14% in the past year, to be worth £118m. And it's not just inflation bringing in extra value, as volumes are up by 6%.
Plant-based meat brands, by contrast, have sold £7.9m less in the last year, a decline of 10% (though it's worth noting brands still make up around two-thirds of the market).
Read more:
So how is own-label bucking the trend suffered by brands, and what are retailers doing to encourage growth?
Consumers shifting to own label as bills soar is nothing new. But the price difference in meat-free is particularly stark, with own-label products sometimes selling for close to half the price of their branded equivalents.
While two Beyond Meat burgers sell for £4.30 at Tesco, the average two-pack of own-label meat-free burgers costs a mere £2.22. For mince, top seller Quorn costs £2.95 for a 500g bag, while the average own-label equivalent is £2.25.
Own-label meat-free is not just offering cheaper options than its branded equivalents. In some cases it is also undercutting meat itself. At Tesco, six own-label meat-free sausages can be picked up for £1.95, cheaper than the £2.30 pack of eight pork sausages in the next aisle. Indeed, one in 10 consumers are now choosing plant-based alternatives because they represent better value, according to a survey by product intelligence platform Vypr.
Curation harder for brands
The resilience also goes further than just price, however. For M&S Food MD Alex Freudmann, own label's success in the meat-free aisle is also about coherent brand statements and making it an accessible, cohesive proposition.
That's why, in its biggest food halls, M&S has begun giving its 200-line own-label brand Plant Kitchen, launched in 2019, an aisle of its own, including chilled, frozen and ambient.
"Because it's own label, we can make these brand statements, and it's just so easy to shop," says Freudmann. "Whereas if you're building this with a depth of brands, you end up with lots of points of sale, and a bit of a jumble sale. The stripping, the colourways – this is much harder [for brands]."
Volume sales of the Plant Kitchen range are up 14.6% in the past 12 months, according to M&S.
Marisa Heath, CEO of Plant-Based Food Alliance, agrees own label benefits from better access to retail space.
"Brands have the increased pressure of finding retail space on shelves – they have to compete for very limited space whereas own label can create its space.
"Ultimately you need to make your product visible in the supermarket for people to buy it, and plant-based usually only has a small section of one aisle."
The meat-free aisle has been on the sharp end of the axe in recent times. In the last year, the number of products in the aisle has been slashed by over 5% in the traditional big four [Assosia 7 June 2023].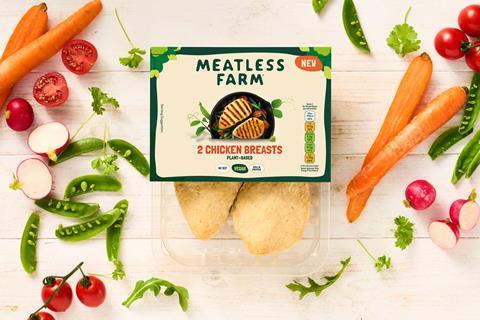 Gimmickery
When it comes to brands, Bol was hit hard, with a 39% cut in range. The Vegetarian Butcher was another casualty, losing almost a third of its lines.
"Supermarkets allowed too many small companies and gimmicky ideas," said Meatless Farm's founder Morten Toft Bech in March in reaction to the rationalisation.
And despite overall sales and volume growth, own label has been subject to even greater range consolidation. The number of own-label meat-free products is down 17%, with the biggest cuts by Morrisons, now with a 61% smaller range.
For Heath, range rationalisation is a sign supermarkets are figuring out what works in a category "still working through its evolution".
One example is the sausage category, in which the number of plant-based options has far exceeded that of meat options.
"Some products just do not meet the consumer's requirements in regards to taste and texture so they do not sell and the sector is having to test out what people want," says Heath.
And own label has the advantage of being able to more quickly adapt. "Supermarkets have the luxury of changing things up and testing new launches with their suppliers – if one thing doesn't sell, it's removed and replaced," says Wicked Kitchen co-founder and former Tesco director of plant-based innovation Derek Sarno.
Despite total SKU numbers falling, own-label ranges have enjoyed a raft of NPD, with supermarkets launching more than 100 new products in the last 12 months.
Asda's OMV line gained 15 products in the last year, including vegan chocolate cake and No Salami Slices.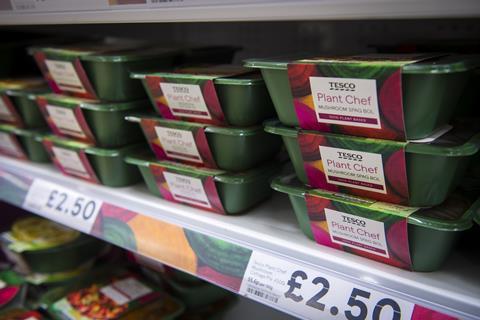 M&S added 15 lines to its Plant Kitchen in January across ambient, food to go and bakery, including 'Nduja, Special Burger Sauce, Victoria Sponge Cake and No Chicken & Chorizo sandwich.
The innovation is "constantly improving the offer," says Heath. And for Sarno the chopping and changing just proves "plant-based is still very new".
"In the UK, the meat-free market is maturing and settling into what works. So supermarkets should still be trialling new items and taking some risks by testing out new dishes."
As sales rise, it seems clear meat-free remains a category of high potential. For brands, it's likely to be a particularly bumpy ride.