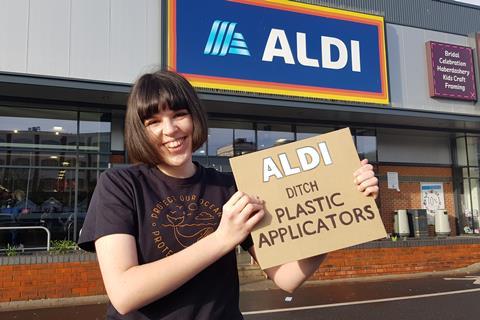 Aldi is scrapping plastic applicators from all own-label tampons and swapping them for carboard.
The move will save over 14 tonnes of plastic a year from the end of January, according to the discounter.
It follows discussions with Ella Daish, who has campaigned for supermarkets and brands to make menstrual products plastic-free.
"We're constantly reviewing our product range to remove and replace unnecessary single-use plastic, and applicators are an example of exactly this," said Fritz Walleczek, Aldi UK & Ireland MD of corporate responsibility.
"Ella's work to drive awareness of the use of plastic in sanitary products is really commendable. As a business, cutting waste is what we do, and it's great to be able to support her efforts."
Daish said: "I'm so pleased that Aldi has taken this important step to stop unnecessary plastic at source. Removing plastic applicators is the first stage in the journey towards going plastic-free. It's a brilliant outcome and I hope to see more positive changes like this being made in the industry soon."
Aldi said it was on track to have all own-label packaging recyclable, reusable or compostable by 2022.