With supermarkets taking the lead on eliminating black plastic from own-label packaging, what progress are brands making?
Supermarkets are making huge strides in eliminating black plastic from own label packaging. Last week Morrisons announced it had become the first to ditch it altogether - well ahead of its target of making all packaging recyclable, reusable or compostable by 2025.

And it's not the only supermarket ahead of the game. As The Grocer revealed, most other major supermarkets are on course to do the same by the end of January next year. The move will have eliminated tens of thousands of tonnes of plastic that would otherwise have ended up in landfill or incinerated because it contains a carbon pigment that cannot be detected by recycling machines.

But while retailers make the headlines and take the plaudits, how much progress are brands making?

Not enough, thinks Louise Edge, head of ocean plastics campaign at Greenpeace, soon to publish a report tackling plastic packaging. "Now that supermarkets have tackled own-brand black plastic, they must force their branded suppliers to do the same," she says.

"Tesco told its suppliers this summer to take action on plastic, or products would be de-listed. This is the kind of bold and urgent attitude we need.

"Unrecyclable plastic will ultimately be burned, go to landfill or end up polluting our rivers and oceans. Supermarkets need to tell big brands to buck up and get black plastic off our shelves."
Making progress
However, Wrap strategic engagement manager Helen Bird argues that brands are already making major progress of their own. Wrap is due to publish a progress report in December, detailing actions taken so far by 86 businesses, including retailers and major brands, signed up to its Plastics Pact. The Pact sets a string of targets to be achieved in a 'roadmap' to 2025, including making 100% of it reusable, recyclable or compostable. Black plastic is to be gone - or made detectable - much sooner, by the end of 2019, a target Bird says signatories, including both retailers and brands, have been "working furiously to hit".

"There have been big announcements by retailers", and major steps in ditching black plastic on own-label ready meals, such as Tesco Finest and Sainsbury's Taste the Difference ranges. "Obviously a large proportion of ready meal products are own label and these have been driven by retailers," adds Bird.

But brands have made big plays themselves, Bird insists, citing Premier Foods, which moved Mr Kipling Cakes from black plastic to clear in May this year; Quorn, which swapped all black plastic for clear and opaque in June; and Unilever, which introduced a new pigment to its Tresemmé and Lynx bottles in May. While still black to the naked eye, the green pigment makes them easily detectable by recycling plant scanners.

This week Unilever also revealed to The Grocer it was also switching Domestos bottles to detectable black plastic.

"In the vast majority of cases we are seeing them make the jump to clear PET, which is obviously the direction of travel," says Bird. "Unilever has obviously gone down a different route because of the heritage of its Tresemmé brand."
Minimum of 30%
As part of the move, Unilever also introduced a minimum of 30% recycled material into Tresemmé and Lynx packs. It's unlikely to be by coincidence that a minimum 30% recycled content is also the threshold for the forthcoming plastic tax, as well as a Wrap target.

Proposed by then Chancellor Philip Hammond in his 2018 Budget, the plastic tax is to be introduced in 2022, or sooner. Almost half of respondents to a Defra consultation wanted a lower threshold, while many called for an earlier introduction.

A spokesman for leading recycling and recovery firm Suez, which worked with Unilever in trials of its new Tresemmé packaging, says a raft of legislation is compelling brands to act.

"The other thing coming down the line is extended producer responsibility, which is what's referred to as 'polluter pays'," he says.

Part of the Resources and Waste Strategy, announced in 2018 by then environment secretary Michael Gove, it is due to make businesses pay the full cost of collection and recycling of packaging by 2023 or sooner.

"Other big demands are consistency of collections on the doorstep and an emphasis on clear labelling, so people know what bin to use," says the spokesman for Suez, which operates in more than 300 UK locations and works with hundreds of major brands.
"I wouldn't say brands are less active. They make less noise about it"
Suez external affairs director Adam Read says a reflection of the seriousness with which brands are taking the issue lies in the high number of brands now "approaching us to understand what can be recycled, to understand how when things get mixed it becomes harder to separate them again".

"I wouldn't say brands are less active [than retailers]," adds Read. "We're under non-disclosure agreements with many of them because some of the changes they're thinking about are commercially confidential.

"They maybe make a bit less noise about it. It's easier for the retailers to come out and say 'we're not going to have black plastic on our product line'. It's harder for a brand because the transition is complicated for them and they don't want to get it wrong.

"But black plastic is on the radar of those that need to be concerned about it."

Read goes so far as to say that much of the black plastic that would have been found in branded packaging a year or so ago has quietly gone already. And if it hasn't yet, "it will do in the next six months or so".

"We helped Wrap look at the economics of what you'd need to do to make all the sites in the UK capable of seeing black polymers," he says. "And the answer is it's probably not worth doing because there isn't anywhere near as much black plastic as everybody thinks."

He adds: "Most of these companies we're talking about are already well on the journey.

"If I were a gambling man I would probably err on us having very little black plastic, as in today's [non-recyclable] black plastic, on the market within the next year."

Carbon Trust associate director John Newton thinks many brands are looking well beyond black plastic to a 'circularity' system in which all packaging is collected and recycled.

"Black plastic doesn't come up specifically as an issue on its own when we're talking to them. It's more within the mix of all the plastics problem," he says.

"The challenge we gave to them is bringing in circularity. Tresemmé is quite interesting. That's a brand looking at the full picture, working with waste companies and councils to try to make that product come back to source. That's really the kind of engagement you need."

Wrap's report in December will be the second on progress towards the Pact's targets but the first containing quantitative data on what has been achieved.

No doubt the findings will not please everyone. It is clear that not all members are on track to meet the end-of-the-year target on black plastic. But the report could also reveal that brands are not so far behind retailers as some thought.
What three leading suppliers are doing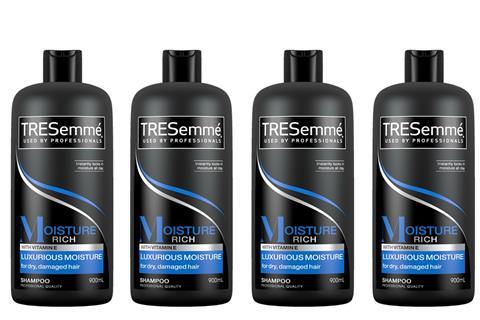 Unilever
Having started using a new pigment in Tresemmé and Lynx bottles in May, Unilever has now begun the process of switching Domestos Sink and Pipe Unblocker to detectable black plastic.
Meanwhile, Bombay Bad Boy Pot Noodle packs have been switched to white plastic, meaning 4.2 million extra pots can be detected and recycled each year.
In October, Unilever pledged to halve its use of new plastics by 2025. "For every single one of our products which uses black plastic, we've taken action to ensure they can be detected, sorted and sent for recycling," said Sebastian Munden, Unilever UK & Ireland executive VP and general manager.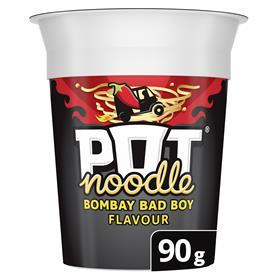 Pladis
"We currently use black plastic trays in our McVitie's Victoria and Family Circle assortment boxes, but as a signatory of the UK Plastics Pact we are examining ways to replace these trays," says a spokesman. "All the films and flexible plastics we use across our McVitie's portfolio are recyclable through our partnership with TerraCycle, enabling our consumers to recycle any plastic biscuit wrapper via hundreds of McVitie's collection points up and down the country."
Procter & Gamble
"Our use of carbon-based black plastic is very low and we're working through solutions to move away from materials, such as black plastic, which are not recycled in the current infrastructure," according to a spokeswoman. "P&G is leading a collaborative effort designed to solve one of the largest obstacles facing plastic recycling - inefficient sorting at recycling facilities. In 2016, P&G sustainable packaging expert Gian De Belder kicked off a coalition of companies to pioneer the project HolyGrail. It proved the value of tracer and digital watermark technologies to enable more accurate sorting, which can improve both the quality and quantity of recycled material."